Navajo Nation Science Fair attracts 792 participants
Navajo Nation Vice President encourages students aim high
Originally Published: March 13, 2018 10:26 a.m.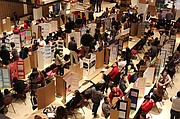 CHURCH ROCK, N.M.— On March 1, Navajo Nation Vice President Jonathan Nez encouraged the next generation of Navajo scientists to reach higher and accomplish their goals during a speech that wrapped up the final day of the Navajo Nation Science Fair, held at Red Rock State Park.
The annual competition, which lasts three days and draws participants from across the reservation, pits the best young minds against one another in categories like animal science, environmental science, chemistry, biology, engineering, physical science and behavioral science.
At stake is more than $20,000 in prizes, including the latest iPad tablets and other incentives. A total of 792 students participated this year.
"I learned some things from you today," Nez told the students. "I learned how exercise can help us remember what we study. I learned new ways to understand and preserve the Navajo language. I saw a solar water heater and a hydropower generator. Many of these projects will help meet the needs on the Navajo Nation."
The fair, hosted by the Department of Diné Education, is the culmination of 60 local competitions, which showcased hundreds of science projects and represented thousands of hours of research. Each participating school selected its top two students in each of the seven categories to advance to the Navajo Nation Science Fair.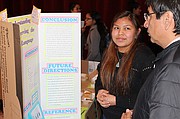 Students from kindergarten through 12th grade are invited to compete. The fair is open to four age groups: the peewee division (kindergarten through fourth grade); the elementary division (grades 5 and 6); the junior high division (grades 7 and 8); and the high school division (grades 9 through 12). First- through fifth-place winners in each age group and category received medals.
Nez attended the science fair for two of its three days, meeting with students in kindergarten through fourth grade Feb. 27, and seventh through 12th grade March 1. He delivered a speech to the whole group Feb. 27 and spoke to parents in a separate session.
The annual event seeks to reward students who came up with unique scientific questions, developed hypotheses and used research-based methods to discover answers, said Johanson Phillips, principal education specialist at the Department of Diné Education and an organizer of the fair.
"Area colleges told us our students, even when they graduated from high school, were lacking research skills," Phillips said. "We hold these fairs to help students improve their thinking processes and learn what goes into research. Every year this fair gets bigger and better, turning out students who are better prepared for careers in science and technology."
Nez visited with students individually, asking them to talk about their projects and reflect about the implications of their research in the world. Project topics ranged from automatic cat feeders to the half-life of uranium, and from the best shampoos for color-treated hair to which beverages leave the darkest stains on teeth.
"I will take some of this knowledge back to my office," Nez said. "From the Office of the President and Vice President, I want you to know that you are all winners. You all have the power to accomplish anything."
SUBMIT FEEDBACK
Click Below to:
More like this story