Tuba City High School students striving for new heights at graduation
Originally Published: June 26, 2018 10:57 a.m.
TUBA CITY, Ariz. — It was a day of sunshine for the "Warrior Green" celebration.
More than 5,000 graduates, parents, grandparents, close family, friends and well-wishers packed the Warrior Pavilion at Tuba City High School (TCHS) for graduation May 26.
The morning speeches were straightforward and practical in their common sense advice in how to succeed.
The final valedictorian and co-salutatorian speeches encouraged students to savor their academic past, to help create a future in solid career building and to have a clean, happy life that will benefit their community.
Special keynote speaker at Tuba City High School's 2018 graduation ceremony this year was current 12th grade English teacher, Sonia Rojo.
Rojo is one of the TCHS students' favorite teaching mentors and was met with loud applause at her introduction before her presentation.

Rojo came to the Tuba City community to teach a number of years ago and has stayed as she has become more invested both personally and professionally on the Navajo and Hopi reservations.
"Many of our TCHS graduates finish college and return to Tuba City and Moencopi to help their community. Our greatness at TCHS can be determined by our service. Go where there is no path, make a new trail," Rojo told graduates. "Also I would like to remind our graduating students to take full responsibility for themselves. Take responsibility for your actions, there is no one else to blame when something goes wrong. Be accountable. If you have setbacks, take responsibility for the decision you made that got you there. Be a role model to your siblings and also to your community. Your final success will be dependent on your failures."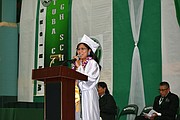 The 2018 co-salutatorians, Hero Roberts and Kayleigh Paddock, were introduced by Maximilian Goldtooth Jr. and each gave brief heartfelt words of encouragement to their fellow graduates. Both stressed working hard, not taking failure to heart and to keep moving forward, even when you don't succeed.
"High school graduation is not the end of young adulthood, it's the beginning," Paddock said. "Our next step is right in front of us— going to college or to the military, trade school or even just entering the beginning scale workforce. We are at the age of developing independence. One of our former teachers said, 'If your dreams don't scare you, they're not big enough!' I remember thinking….that is the "cheesiest" thing I have ever heard, but then I thought more about it and it opened my eyes. We are truly capable of anything we really desire to accomplish. Don't shortcut yourself or go belly up if something is intimidating. Shine through adversity. Be the absolute best version of yourself. Hard work makes things happen. Hard work creates change."
Shalyn Nockideneh, this year's valedictorian, also said hard work was a key to success.
"Set goals," she said. "I didn't really know what I wanted to go to school for but I know once I do, then I shall stick to my goal and get it done. We all have maximum capability and our own power. I encourage us to use it."
Nockideneh also thanked her family and teachers.

Nizhoni Accelerated Academy (NAA) Student of the Year Reanna Tsinnie took a moment to talk about her own success with the support of the school administrator and his staff at NAA. Tsiniie said she wasn't sure how to succeed personally when she got to NAA, but through the staff's direction and guidance, she now knows she would like to be a teacher with the hope that she can also guide and make a difference in a student's future.
Winners of the Madeline Gross Scholarship and the Dr. Kenneth F. Gose Scholarship were also announced. Winning the Madeline Gross award was Dynnika Tso. Winning the Dr. Kenneth F. Gose award was Jayden Chee.. Students who graduated with National Honor Society Recognition included: Zachary Bauer, Jake Beard, Justiss Begody, Shyrone Benally, Marison Bilagody, Turnerlyne Blackhair, Autumn Byjoe, Shalby Del Villar, Ty Figueroa, Charlette Flatrock, Maximilian Goldtooth Jr., Martricia Hardy, Chelsea Nez, Shalyn Nockideneh, Kayleigh Paddock, Alaina Puhuyaoma, Hero Roberts, Jaycie Stanley, DeShawn Tallsalt, Kenyon Tanner, Dynnika Tso, Suzette Vasquez and Kalista White.
The top ten seniors at TCHS were Zachary Bauer, Marison Bilagody, Turnerlyne Blackhair, Summer Daw, Martricia Hardy, Celisha Meyers, Shalyn Nockideneh, Kayleigh Paddock, Hero Roberts and Dynnika Tso.
Acceptance of the 2018 graduating class was made by Ronald Begay, TCUSD Governing Board President with Changing of Tassels by Zachary Bauer, and benediction was given by Autumn Byjoe.
Senior class officers were Zachary Bauer, Kenyon Tanner, Jaedyn Chee, Kayleigh Paddock, Kaleb Russell and Kirsten Canyon.
Senior class sponsors were Nicole Tsingine and senior class counselor was Josef Barriga.
SUBMIT FEEDBACK
Click Below to:
More like this story