Hopi Show kicks off Saturday at the Museum of Nothern Arizona
Duane Koyawena is one of the artists featured at the Hopi Festival of Arts and Culture June 30-July 1
Originally Published: June 26, 2018 12:02 p.m.
FLAGSTAFF, Ariz. — For Duane Koyawena, art and his sobriety go hand in hand and that is what he wants to come across at the Hopi Festival of Arts and Culture this weekend at the Museum of Northern Arizona in Flagstaff.
He will give a talk as part of the Heritage Lecture series called Art Rehabilitation, a discussion of the importance art has as a form of rehabilitation.
Koyawena struggled with alcohol for years and spent nine months in Coconino County Jail. He has been sober since 2008. Now, as a chemical dependency therapist, Koyawena counsels people who find the idea of 10 years of sobriety out of the realm of what they can conceive. Koyawena relates to that.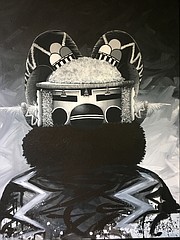 "That's how I was at the beginning, I was like, 'There's no way I'm gonna get five years sober,' because I felt like I couldn't live without it."
But he has been sober for 10 years. At the beginning, it was impossible for him to think he would be where he is today.
"My artwork and my sobriety are kinda like the same story to me," Koyawena said. "Because to be overwhelmed or to think that obtaining 10 years of sobriety was impossible."
And with so much talent and so many artists out there, Koyawena said he had the same disbelief of how his artwork would be distinctive from all the other talent that he sees.
"That was discouraging to me," he said. "I doubted it. And just like the length of sobriety, I feel like that idea is hand in hand. In sobriety, they say 'one day at a time.' And, my artwork, it could be like one stroke at a time or one painting at a time."
Koyawena said the only way in sobriety to get used to handling life situations and hard times is to encounter them and process them with people who are supportive and are going to help.
"I feel that with the artwork, too, at the same time, your talent gets sharper and sharper," Koyawena said. "After time, you just start to understand it a little more and you see things a different way. It develops a little sharper."
Koyawena said practice makes an artists' skill get cleaner, lines get sharper. And, he feels that developed for him by connecting with a lot of other artists who are on the same path.
"In sobriety, you get held accountable for veering off on the wrong path or thought," Koyawena said. "I think in art, too, with being friends with fellow artists, they're not going to BS you. You're able to take criticism a little better and sharpen your skills a little more."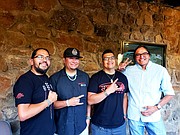 Surrounding himself with friends and family who want him to succeed is important, too.
"You want to hang with people who are going to support your sobriety rather than your addiction. And fellow artists, some of them who you become really tight with, back and forth, we support each other. That is how I really compare the both of them."
Koyawena said that when he was drinking, he didn't really have a desire to learn his Hopi culture but as he sobered up, he started drawing and started to sell and see how the whole process worked.
"The only way I'm going to learn how to cover big spaces is if I started to learn how to paint," he said. "I really like depth. I started learning about shadows and shading to make it look like it is popping off the canvas or floating."
Koyawena measures a lot of his talent from when he first started, his perspective was different, not as detailed. But it was the teaching of his Hopi culture that also started to take hold.
"I just didn't want to draw or paint things that I didn't know the meanings behind," Koyawena said. "As I started having ideas and thoughts of paintings, I started questioning certain things to my family, to my godfather, and some of my clan brothers, older and younger, some who speak fluent Hopi. I still ask them, today."
While many people feel like art is an escape or a go to place, Koyawena said that, while art can be that for him, too, most of the time, he gets engulfed in thought.
"My road still right now isn't the best, I go through hard times, I battle with one thing that's hard on me, so sometimes when I paint, I get really in thought about a lot of that and sometimes it can be difficult to perform and get it out," Koyawena said. "People tell me that they feel like in some of my paintings, there is a lot of emotion or feeling in what I do. I think that could be true because I'm in deep thought when I am painting."
Koyawena said that some literature he has encountered talks about the alcoholic and addict having low self-esteem. One of the characteristics of that is always looking at the negative, something Koyawena is familiar with, but tries to move past.
"I think of it as being reborn and learning new living patterns, or a new way of thinking and it takes time," he said. "I'm still not sharp at it. I think I'm more aware of it. I really relate that to your technique or shading or whatever. You're going to get better at it. Practice and taking time to think about these things is how it develops on both ends."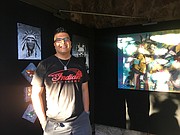 For Native youth, Koyawena's message is simple, no matter what the situation is, art, work, home life: life is a process.
In his work for Recovery Court for Coconino County, there are four phases people go through and Koyawena works with those in the first phase in the first month as they are fresh out of jail and dropped into society with no job, most with no place to live and they have to get everything in order.
"It's overwhelming and it's difficult and it's hard," he said. "I guess my message would be, when you start something new, don't judge it for the first week, or two weeks or month or five months. Don't base the outcome on that little bit of time. Give it time to develop. It's a cliché, but you've got to really work for it."
In the end, Koyawena strives for balance while he works.
"I'm in my head, I'm dealing with my life problems, but, at the same time, I guess it's just a reflection, I want it to be nice, and beautiful for the world to see," Koyawena said. "Maybe those thoughts are where my energy comes from. There's definitely a lot of emotion and feeling that goes in there."
And while he looks back in gratitude for his path that has lead him to where he is today, as hard as it has been, Koyawena has other reasons for going forward every day. He wants to share the artwork with his daughter, too.
"My goal is to be a very good dad, and be a very good role model and some of that emotion comes into my work," Koyawena said. "I want to be a good role model that she can look up to and so a lot of my emotion goes into that as well. I want to teach her what I've learned in life and as a Hopi."
SUBMIT FEEDBACK
Click Below to:
More like this story