Honor Riders escort Code Talker Samuel Holiday to final resting place
Originally Published: June 26, 2018 10:41 a.m.
KAYENTA, Ariz. —Samuel T. Holiday, 94, a Navajo Code Talker, died June 11 and was honored June 15 as his body was escorted home to Kayenta, Arizona.
It was nearly 900 miles round trip for seven of the Navajo Hopi Honor Riders (NHHR) riders that escorted the World War II veteran back into the four sacred mountains, led by Utah Patriot Guard Riders.
A procession of family members with the help of St. George Sheriff's Office, Hurricane, Kanab, Fredonia, Page Police department and Navajo Nation Police Department along with more Navajo Hopi Honor Riders joined along the way as the procession entered Kayenta.
On June 14, the group was led into St. George by Michelle West and included NHHR's Terry Lewis, Geri Hongeva, Earl Willie, Cal Tso, Ryan Williams and Charles Nelson, who are all from different parts of the Navajo Reservation.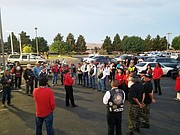 "The honor was ours to escort our grandfather and hero back to our Dinè Nation. A heartfelt thanks to those who rode the distance to meet the family's request and to show our gratitude to the families," said NHHR Michelle West.
The escort began at 6 a.m. June 15 at the Hughes Mortuary in St. George, Utah. City Councilman Jimmy Hughes, who is currently serving as St. George Mayor Pro Tem, participated in the procession.
Law enforcement personnel, including Utah Highway Patrol troopers, also helped guide the escort as it made its way through southern Utah and northern Arizona before ending in Kayenta, not far from Holiday's place of birth near Monument Valley.
Family members of Honor Riders residing in St. George heard the Honor Riders were riding from the Navajo Reservation to give tribute to Holidays' family by escorting him home. They reached out immediately and asked what they could do to help and at 5 a.m. June 14, Ilene Cook-Sandoval, along with her children, met the riders at the mortuary. They provided coffee and pastries.
Holiday and other Navajo veterans have been recognized with multiple honors, including the establishment of National Navajo Code Talker Day by President Ronald Reagan in 1982 and the awarding of the Congressional Gold Medal in 2001.
Information provided by the Navajo Hopi Honor Riders
SUBMIT FEEDBACK
Click Below to: