Ed Kabotie and 'Tha Yoties will play and sing at Hopi Fest this weekend
Kabotie and his band, 'Tha Yoties will release their new CD at the Orpheum June 30, coinciding with the Hopi Show as part of the IrieZona Reggae Rockout
Originally Published: June 26, 2018 12:21 p.m.
FLAGSTAFF, Ariz. — Ed Kabotie, the Museum of Arizona's artist in residence, will speak and play at the Hopi Festival of Arts and Culture this weekend.
Kabotie and his band, 'Tha Yoties will also release their new album June 30 at the Orpheum, coinciding with the Hopi Show, as part of the IrieZona Reggae Rockout. Those with a wrist band from the Hopi show at the museum on Saturday will get a discount into the Orpheum that night.
Art as a path to recovery
Kabotie realizes while art can be a path to recovery, it is important to acknowledge that Native people's first contact with Europeans was a negative one and that weight transfers into the future.
One could look at the Navajo and their imprisonment at Bosque Redondo, where a third of the tribe died. Or look to both the Navajo and Hopi where families were forced into boarding schools, which happened in the last 125 years and continued for the next three or four generations.
"The boarding school experience was a total attack on the health of our communities and our families," Kabotie said. "It was a calculated attack. The stated government policy was, 'Kill the Indian, save the man.' That is really what they were attempting to do. To kill us. To kill our culture. To kill our relationships."
Kabotie said it changed the dynamics of tribes' cultures — mothers and fathers taken from families, children taken from families, assaults made on women to render them infertile, in what Kabotie terms sexual assault.
"How is it that people cope with these things as a culture?" Kabotie asked. "I would challenge any culture to go through what we have experienced in the last 125 years and exhibit the proactivity and the hope that our culture still has."
The grab at the minerals, the destruction of the family, the attempted destruction of the culture, all of those things are interconnected, Kabotie said.
"All of those things are taking place in my grandfather's generation, my father's generation," he said. "That's kinda what you inherit as a Native American being born into this world. You are inheriting generations of trauma."
With that inheritance comes how to deal with it. Kabotie acknowledges that Native people are human and all the ways they find to deal with the trauma and pain are not always healthy.
"The legacy of my father to me is that he recognized it and worked really hard to express that healing journey in his artwork," Kabotie said. "My father was very open about his battle with alcoholism. He fought valiantly. He was essentially sober for the last 20 years of his life and he really fought through his medium to express healing values."
Kabotie said he is self-aware enough to know he is full of dysfunction but he does not want to express the darkness. Like his father and grandfather strove to express healing to the community, Kabotie wants the same thing.
"Historically, yes, I want to bring light to things that are hidden, but as far as what I want my artwork to be personally, and my music to be, I want it to bring light," Kabotie said. "I do want it to bring light to darkness but I don't want it to dwell there. I want to remind us that we a spiritual people and we have those healing values latent in our culture inside of us. I feel like I reach for that in my art and music."
But even with that hope, Kabotie struggles in his journey, like everyone else does. He recognizes the darkness inside himself.
A matriarchal culture
This year's heritage festivals at the Museum of Northern Arizona has a focus on women and Kabotie said he feels in Puebloan cultures, particularly Hopi, it's the mothers who really were and have been the glue that has held the cultures together.
"Being from matriarchal people, our mothers really were mothers oftentimes to multiple children when their families were disrupted," Kabotie said. (Kabotie will be talking/honoring his grandmother at one of the heritage lectures this weekend). My grandmother, there are a lot of aunts and uncles who were also nurtured in [my grandmother's] home. In the clanship systems of Hopi, they're really the unbreakable fiber who held us together and still holds us together."
Even while Kabotie honors the good, he says he does not feel healed as a person. He doesn't feel that his behavior in his life represents his work and he feels like a hypocrite.
"I'm talking about the strength of women, but I've not got the greatest track record," Kabotie said. "I have a terrible track record with women in my life and it makes me sick because I feel like I'm part of the sickness. I can see my own part in perpetuating our dysfunction."
Crying out for help through music and art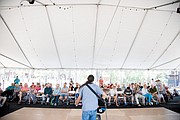 Kabotie said in his music and his art, it is important to be aware and to make a statement that to him is a cry.
"When a person has been traumatized, the first thing they have to do is cry out," he said. "They have to cry out for the hurt that's inside of them. Many times, people don't do that and become more sick. Or we're not given the opportunity to do that in the case of Native people and the greater culture."
Part of that is not acknowledging that Native cultures are not one monolith, but tens of thousands of communities that have stories to tell.
"We've all been wronged severely," Kabotie said. "The first thing we need to do as individuals and as cultures that are seeking to co-exist, we need to cry out and be heard. In some ways, that is what I feel like I am doing personally and professionally."
Whether talking about industrial mining, or taking from the environment without giving back or a myriad of other issues, Kabotie said the answer is not a political one. The answer is spiritual.
"God has the answer," Kabotie said. "That's how healing begins. It's coming to that place of humility where we cry out and seek help. I think, at least for myself, that's what I do try to do with my work. I'm crying out in my work because I feel the sickness and the dysfunction and I'm wanting to heal."
As an illustrator, Kabotie said his work comes out of a good, still place.
"That's when I create visually. When I'm slowing my life down, when I'm meditating, when I'm hearing songs, when I'm thinking deeply, that's where my visual art comes from," Kabotie said. "It comes from a very good place.
But Kabotie's music is different and is his chief medium. When he writes, it comes from many places — pain, loneliness, inspiration, being moved, hearing the voice of God.
"When it comes from pain, there is a release that I'm going through, it is almost like you're going through that crying out process," Kabotie said. "And I think by articulating those feelings and putting them not only into melodies and sounds but then putting them into words, articulating exactly what I'm feeling, releasing that from your soul, I think that is very therapeutic for me."
Healing through creation of music
The most recent song Kabotie wrote that felt like that was about Bahe Whitethrone Jr., a close friend, who passed away at the end of March.
"That is just a perfect example of just being overcome and not knowing how to respond," Kabotie said. "But you put it into words and you put it into a song. Somehow it's not gone but somehow you do feel like you're healing as you go through that articulation."
"I think you can look at a lot of music and recognize that a lot of it is crying out — the rebellion of metal, the conscious cry of reggae, the defiance of punk — these are social cries, the cry of loneliness," Kabotie said. "We're touched by music that addresses those things for us and articulates them. Sometimes a simple song can really help us through stuff, and it has me."
And still, Kabotie said, he does not want the darkest parts of himself in his songs.
"I put the healing in there," he said. "Music and art are meditations. And if a person is dysfunctional, that is the mediation you have, on canvas or in your ear. If a person is healing, growing and meditating on higher things, I think that is what you'll see in the art."
In light of the Hopi Festival of Arts and Culture, Kabotie stresses that these are lessons he has learned from his Hopi culture. Songs and images both of past and contemporary artists in the culture have always elevated the Hopi.
"When we sing our spirits are elevated by the thoughts, imagery and prayers that are expressed," Kabotie said. "When artists, whether they're ancient past or contemporary, this is especially true of Hopi, they take those same elements and express them visually, prayers, meditations on the water cycle, prayers for the people, prayers for the world, they put that all into their work. That makes Hopi a very unique and dynamic community of artists."
SUBMIT FEEDBACK
Click Below to:
More like this story