26th annual Wellness Conference presents Diné way of life
Originally Published: June 26, 2018 10:26 a.m.
The 26th annual WIHCC Wellness Conference, in conjunction with the 13th annual Youth Wellness Conference, was held at Winslow Jr. High June 19 at the Old Gym. Mary Ann Begay, Birdsprings veterans, Carlie Martin, Debra Lopez, Sally Pete and Jackson Dennison opened the conference. Four breakout

sessions were available during the day. Sessions included Sunny Dooley who explained Dine' woman's traditional role, Lillie Pete explained the Dine' girls puberty rites, Dale Gonnie talked about the purpose of the Sweat Lodge, and Thomas Yazzie and Annette Gonnie listed the 13 Levels of Development in Dine' life. The Youth Wellness Conference included a morning presentation about traumatic brain and spinal cord injuries, and sources of strength.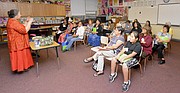 Afternoon presentations included living a positive life, sex trafficking and having healthy relationships. Morning and afternoon sessions included physical activities and strength conditioning. The day ended with the distribution of raffle prizes.
SUBMIT FEEDBACK
Click Below to:
More like this story