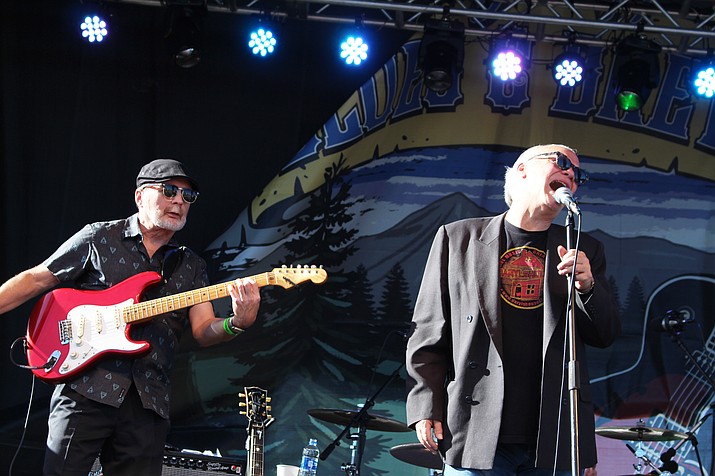 Originally Published: June 19, 2018 11:57 a.m.
FLAGSTAFF, Ariz. — Curtis Salgado, inspiration for "The Blues Brothers" movie, performed at Flagstaff Blues and Brews Festival to promote his new CD "Rough Cut."
Salgado and guitarist Alan Hager perform duets on the CD, but it was Salgado's five piece band that performed here June. 9.
Flagstaff Blues and Brews Festival has established itself as the best attended and best quality blues festival in the state with large numbers of visitors coming from Phoenix to get out of heat. Local and regional microbrews sold brews while food vendors and arts and crafts vendors were on hand, along with local business vendors.
"Rough Cut" is the first acoustic CD that Salgado made in 20 years. Most of Salgado's CDs have been rhythm and blues. "Rough Cut" has been nominated for the Blues Blast Acoustic Album of the Year.
"I wanted to show off Alan's guitar work," Salgado said about having Hagar on the CD.
Salgado said there are few musicians playing traditional blues like Hagar and himself.
"We're really good and showing how it's done," he said.
Salgado and Hager both come from Portland, Oregon, where they met each other back in 2003 when Hager subbed in for Lloyd Jones at a Salgado concert.
Salgado said Hager can play any type of music, but has a love for the blues. Salgado grew up listening to excellent music in all categories.
"You like what you like. It's subjective," he said.
Unlike some CDs, you can't accuse all the songs on "Rough Cut" for sounding alike. Yet Salgado likes the way the entire CD came out.
"We went out of our way to make sure that we didn't make a CD that sounded like everything else," he said.
Salgado was introduced to John Belushi in 1977 by a cocaine dealer when Belushi was in Eugene, Oregon, where Salgado was performing. Belushi was in town to film "Animal House." But Salgado didn't have a TV and wasn't home on Saturday nights when Belushi was performing on "Saturday Night Live." Salgado didn't know who Belushi was and he didn't care.
But Belushi persisted in inviting Salgado to his home and asking Salgado to bring his blues records. That is where Salgado turned him onto the blues records and most of the songs in "The Blues Brothers" movie came from those songs.
Salgado almost lost interest in seeing Belushi again, but when Belushi told him that Ray Charles would be a guest on "Saturday Night Live" he gained Salgado's interest.
It was obvious that Belushi didn't know much about the blues when Salgado mentioned Guitar Slim and Belushi didn't know anything about him.
Salgado and Belushi ended up as friends until Belushi died about seven years later. Salgado said most people thought Belushi was funny and influential without realizing how serious Belushi was about his craft — acting.
"John Belushi went too soon. I wish he was alive," Salgado said about Belushi.
Belushi was not into blues before meeting Salgado, but his fellow actor Dan Akroyd was a long time blues lover. Salgado said Belushi's impact on him was huge because Belushi gave him credit for inspiring "The Blues Brothers" movie and during every interview since the movie came out, the issue has been brought up.
Since 2006, Salgado has dealt with health issues. First it was liver cancer and that metastasized into lung cancer. He needed a liver transplant that he could not afford. His fellow musicians put on a fundraising concert that gave Salgado the funds for the lifesaving transplant. Steve Miller, Robert Cray, Lil Charlie and the Nightcats and Bonnie Raitt were among the musicians who helped him raise the money.
Salgado recently had a quadruple heart bypass, but it hasn't stopped him from recording or touring.
"You recover and you come back," he said. "I wanted to live. I didn't need chemo. Chemo takes people out. My surgery made me uncomfortable."
Salgado said the surgery left him too weak to walk for three months.
"But you get up and you get going," he said.
Salgado said the people in his hometown of Portland, Oregon, were also amazing in rallying around him during his health crisis.
"I owe the universe," he said. "When I think about it, I break out and cry like a 3-year-old."
He said his sister also helped raise money to help him with the financial battle.
"They all inspire me," he said about the people who helped out.
Salgado has been sober for almost 30 years as he was an alcoholic and drug user for years.
"I was a wild child," he said. "I don't write about it, but I wouldn't be alive if I didn't stop. I'd be dead."
His advice to youth going into music is to learn everything about the music and learn the business side. He also advised them to learn more than one instrument.
"The guitar gets the girls, but youth should also learn the keyboards," he said.
Another group that had the audience up and dancing was the Nick Moss band which also featured Dennis Gruenling on harmonica. Moss said he appreciated the scenic venue, and also the cool 80 degree temperature with a breeze as opposed to his last gig in Austin, Texas, where it was 104 degrees.
Although the Moss-Gruenling connection gets a break at the end of the month they are touring heavily for the next year to promote their new CD, "The High Cost of Low Living." Next summer, they will be touring Europe.
This CD has debuted at number one on the blues charts and is ranked number one on Living Blues Radio.
"We haven't had one bad review," he said. "Alligator Records is doing a great job. They do exactly what they are supposed to do,"
Guitarist Moss and Gruenling have been performing together for almost two years, but they have known each other for 20 years. Getting together was hard since Moss comes from Chicago and Gruenling hails from New Jersey.
"It was the right time for us to get together," he said.
Jeremy Bar-Illan's band played a hard core rocking blues. He also praised the surroundings, the people and the weather.
"But the altitude took its toll on me," he said.
The other performers included Robert Randolph and Family Band, guitarist Anna Popovic, Austin Young Band and Big Daddy D and Dynamites.