Cameron family receives solar generator from Big Navajo Energy
Originally Published: June 19, 2018 2 p.m.
CAMERON, Ariz. — Through its Community Benefit Fund (CBF), Navajo Transitional Energy Company provided a helping hand to install solar power to a Cameron family in late May.
"We're happy that NTEC's Community Benefit Fund was able to provide the funds to help a family get the energy they need," said Cameron Chapter President Milton Tso.
Cameron Chapter applied for the grant last year and was one of 33 projects that was funded from the annual fund.
"These types of projects increase the quality of life for Navajo people and we are proud to support such endeavors at the local level," said Melissa Kelly, community coordinator for NTEC.
Crews worked on May 30 to install the 1,500-watt system and a dedication was held the day after installation. About a dozen people attended the ceremony at the home of Yolinda Meija. The system was installed by Big Navajo Energy, LLC.
The Meija family moved to Cameron last year and began building a home with her husband and children in an area that is still recovering from the Bennett Freeze, a 1966 policy that prevented many Navajo and Hopi families from getting electric and water. Although the freeze was lifted in 2009, the effects are still felt today.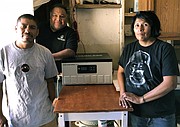 Yolinda and her family started building their home in the later part of 2017, and without electricity, they have powered their home with a gas generator for the past several months, costing the family about $60 a week in fuel. Their gas generator was located about 50-feet away from their home, attached was a long extension cord from the generator to their home.
"It was very noisy," she said about the generator, though pallets were stacked around the generator.
The Mejia family was grateful and appreciative for the efforts of those who made it possible.
"My children are enjoying not having to smell and hear their loud gas generator and enjoy not having to start or turn off the generator each day," explained Yolinda.
The solar generator will allow the family to power hand-held devices, lighting, a television and other small appliances.
Walter Phelps ,Council Delegate and chair of the Navajo-Hopi Land Commission, said he is happy to see the family being helped by NTEC's CBF and the help of Big Navajo Energy.
"I'm thrilled about the process to get power to the home. We have many families who live without basic amenities such as electricity and water. The family is benefitting directly from funds like the CBF," Phelps said.
He added that the commission has been working to get infrastructure to families affected by the Bennett Freeze.
Dory Peters, Big Navajo Energy CEO, said he wants to increase the quality of life and independence for Navajo residences, specifically the elderly. He recently worked with the Office of the Speaker to install systems for families in the Former Bennett Freeze area near Tuba City.
"We are honored to work with Cameron Chapter and we are very thankful to NTEC and Navajo/Hopi Land Commission for providing matching funds to complete this project," Peters said.
Information provided by Navajo Transitional Energy Co.
SUBMIT FEEDBACK
Click Below to: