New film follows rise of resistance to the Dakota Access Pipeline at Standing Rock
Floris White Bull and others share experiences through "AWAKE, A Dream from Standing Rock"
Originally Published: June 12, 2018 3:18 p.m.
FLAGSTAFF, Ariz. — "AWAKE, A Dream from Standing Rock" is a collaborative documentary created in three chapters, each by a different filmmaker, that follows the rise of the peaceful resistance to the Dakota Access Pipeline in North Dakota.
Eventually, thousands of activists and indigenous people from across the country converged on Cannon Ball, North Dakota, to stand in solidarity with the indigenous people, who call themselves water protectors, protesting the construction of the pipeline.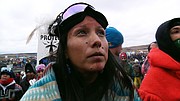 But in the beginning, the protest was just a few people from the Standing Rock Reservation.
"I am not dreaming. I am awake. I've been woken from the spirit from inside that demanded I open my eyes and see the world around me." ~ Floris White Bull
Floris White Bull, advisor and co-writer of the film, was one of the handful that initially went out to protest at the barricade. The tribe had received a two-week notice about the start of construction and White Bull said she spent those weeks worrying. She said more than half the time, she struggles to provide for her family and she did not know what she could do as one person against a billion dollar corporation.
"I was terrified," White Bull said. "Not just on a personal level, but as a mother. That morning, I kissed my children and I was scared. I left my home that morning, and I said, if I could put my body there, that's what I'm going to do. That's all I have, that's the only thing I have. And I was scared. That first fear is for yourself. And you have to put that aside knowing that it's bigger than us. It's more than just one person and I would put myself on the line to help and to make it better for my children, to try. I had to try. And that's what we did."
One of the startling things about the footage shot by Academy Award nominated filmmaker; activist Josh Fox and Academy Award nominated filmmaker James Spione and indigenous filmmaker and Digital Smoke Signals founder Myron Dewey is watching unarmed people in prayer confronted by police officers in full riot gear, tanks and weapons. Over and over again, people shout in the film, 'We are unarmed,' as police shoot rubber bullets or physically confront them. On Thanksgiving Day, the protestors were sprayed with high powered hoses in freezing conditions, in fact, the film shows the police deliberately spraying people and a fire meant to keep the protestors warm, an event witnessed by not only the people in North Dakota but those watching on Facebook Live.
"Fear is a way people manipulate, almost, and subjugate, that becomes almost an immediate response to anything you don't understand, that you fear it," White Bull said.
But facing that fear and standing up was part of the point, a message the directors hope resonates across the world.
"The battle that began at Standing Rock is a battle for the soul of America, and it is far from over," said director, writer and producer Josh Fox. "This film is part of the rallying cry for indigenous sovereignty and clean water that has resonated across the globe."
The film also documents camp life for the thousands of people who came to protest in intimate day-to-day life of the camp community, as indigenous and non-indigenous people gather for prayer and song and engage in daily tasks like clearing snow, raising tipis, distributing clothing donations or building sleeping barracks for the many veterans who arrived to join in the protest.
"I've never taken it for granted because I understood that there were people in the world who had to walk miles before sunup to go get their family's water for the day," White Bull said. "And they face rape. And they face hardships that they don't have water by simply turning on a faucet. They don't have that convenience. There is also a growing population of people who don't have access to clean water because of fracking. Michigan still doesn't have access to clean water today. And that's something that is preventable. There is no reason that should be happening today."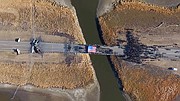 But White Bull said the camps were an example of what could happen if people acted collectively with the thought of the greater good in mind.
"Our camp was an example of the ingenuity of the human being, we can adapt and overcome and we can come together and solve our problems together," White Bull said. "We lived together like that and it's a blue print for the world that we don't need as much as we think that we do. That we can bear the brunt for the future. We can bear the brunt of change to make the world better for the ones who come after us."
One of the directors, James Spione, said that Standing Rock was — and is — so much more than a protest.
"What began in North Dakota has become a worldwide rallying cry of resistance to corporate power and its relentless drive for profit at the expense of human needs, rights and dignity," Spione said. "If we are to survive this century, it is the indigenous people who will lead the way forward."
White Bull said that as the film travels the country for screenings, it is hard to watch it over and over again because the footage is so raw and immediate. The immersive documentary features emotional first-person accounts and gripping footage of militarized local police and private security teams confronting people and journalists with rubber bullets, mace, tear gas, water hoses and dogs.
But she also sees it as a call to action for everyone, especially indigenous people, who have earned the right to have their voices heard on behalf of the land, water and beings that are not able to speak for themselves.
"We have a voice and we have a say and we have a right to sit at the world table, that we have contributions, a way of seeing the world and our place in it that can heal the world that we're hurting today," White Bull said. "It's a call to action to all people, all races to take responsibility for the world we're going to leave and the impacts that we're forcing other walks of life to incur."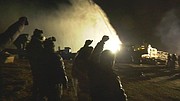 The pipeline, which was expedited by the Trump administration, now carries fracked oil from North Dakota's Bakken oil fields through sovereign land and under the Missouri River, the water source for the Standing Rock reservation and 17 million people downstream and the plant life where the tribe continues to gather traditional medicines and edible plants to sustain and heal themselves today.
White Bull said the protest was never just about one pipeline, rather it was about taking responsibility for their lives today and understanding that each life is impermanent but the impact people have on the land and environment lasts.
"We can't just be passive anymore. We have to do everything else in our power and understand the power of the people. The people who went out on the first day on that barricade, they won," White Bull said. "There was only a handful of us. We went out that first day and we put our bodies out there and we stood between those workers and that land and we went back and we kept going back and it grew and grew into more and more people. And now people are standing up and we're fighting because it is not just about us, about the spotlight or credit, it's about more, wanting better and accepting responsibility for the world that we are leaving."
The film executive producer is Doug Good Feather and Emmy Award winning filmmaker Amy Ziering and Lauren Taschen. The film's score features music from indigenous musician/activists Nahko (Nahko and Medicine for the People) and Prolific The Rapper.
More information about "AWAKE, A Dream from Standing Rock" is available online at www.awakethefilm.org and on Netflix.
SUBMIT FEEDBACK
Click Below to:
More like this story