Originally Published: June 12, 2018 11:14 a.m.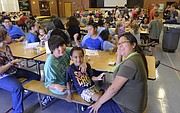 Kids assembled their own pizza June 7 at the Winslow Library culinary event. After assembly, the pizzas went into the ovens for baking and warm pizzas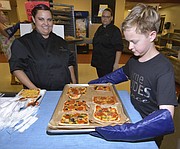 were delivered to their creators, where they were promptly devoured. The event was attended by 105 hungry kids and parents. Culinary activities happen weekly at Winslow Junior High and are provided by school meal service company, Chartwells, as part of the library's summer kids programs.
More like this story