Winslow Homolovi Observatory opens to star gazers
Originally Published: June 5, 2018 11:18 a.m.
On June 2, the Winslow Homolovi Observatory opened for 100 star gazers. The observatory concept was visualized first by Winslow City Manager Steve Pauken. Pauken is an astronomy expert and enthusiast who has pursued astronomy for a number of years. Pauken promoted the idea of having a first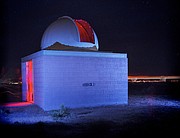 class small observatory in a dark sky area. Homolovi State Park had a pre-existing relationship with Winslow and the Hopi Tribe supporting the park jointly. All costs, materials, equipment, telescopes and labor were donated by various individuals and groups. These donations provide a local observatory in Winslow at no cost to taxpayers.
SUBMIT FEEDBACK
Click Below to: