Native comedian brings message of laughter, hope to Hopi High graduation
Originally Published: June 5, 2018 10:19 a.m.
POLACCA, Ariz. —Tatanka means laughter, but the Native American comedian also brought messages about the importance of education and not drinking to the graduates at Hopi High School during the 32nd commencement exercise May 24 at Bruin Stadium.
Seventy-one students graduated and several thousand people turned out to watch the ceremony.
Means, a motivational speaker who also shows up on YouTube, started by bending over to pick something up, but quickly apologized for making the crowd look at his butt.
"But I've been working out," he said.
Means, who is Oglala Lakota, spoke about his parents, grandparents and other family members.
"Christine Begay is my first and only wife. My girlfriend's name is, just kidding," he said.
Means thanked the teachers, principal, senior class officers, senior citizens and jealous exs for attending. On a more serious note, Means spoke about the importance of time.
"Time is something you can never give back so thanks for letting me share our time. I cherish this time," he said. "Cherish your time with your classmates because this will never happen again with this same combination of friends."
Means said he had no game plan when he graduated high school.
"I was scared clueless to ask anybody for help," he recalled.
After high school he entered an auto shop program, but didn't like it so he moved back home to Chinle. He was waiting for an opportunity, which he now knows is wrong: He said students have to make their opportunities happen.
He commended the graduates for being among the 70 percent of Native Americans who graduate from high school.
Means told the graduates that not taking risks is easy, but turning ideas into action is amazing. When he finished high school, his father talked him into working on a fishing boat in Alaska so he could make money for college. He later learned that this is one of the top ten most dangerous jobs in America. He worked 16 hours a day on the ocean and didn't make money because it was the worst fishing season in 20 years. But during this episode, he learned self-reliance.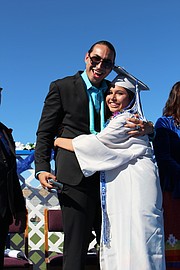 Means also told the graduates that they should respect their elders, parents, earth and themselves.
"Use your voice and purpose," he said.
Means said when the graduates go out into the world they will learn how ignorant Americans are about the First Americans.
He told the students to learn as much as they can.
"Stay away from the guy who says 'I will pay you back' because they won't pay you back," he said.
Means warned the graduates that student loans will follow them like a reservation puppy.
"Get an education and come back to help your people. We need you," he said. "Our next generation needs you."
Means said they should not look to TV for morals because the students have that here.
"We want you to be better than us. Hope is what you give to the communities and your families."
He urged the students to declare what they want and say it out loud. He said if he left the graduates with one idea it would be to avoid alcohol.
"Leave alcohol alone forever. Your life is too important to risk. Nothing good comes from alcohol," he said. "Alcohol will hurt your family. Alcohol is the trickster. Alcohol wants you to fail."
Means told the graduates to keep a clear mind and be conscious of the company they keep.
"Anyone who offers you a drink is not on your team," he said.
Instead, he said, drink water because water is life.
"I've seen smart talented lives destroyed by alcohol," he said.
Means said success is relative. He said success is not what pop culture and materialism tells us.
"Success to me is being able to provide for yourself and your family, and being happy with what you have," he said.
Means said graduates need to sometimes unplug from their phones and computers in order to plug into life. He also told them that failure is part of life, but how they handle failure is important.
"Life is trial and error. Grind so hard that you cannot be denied," he said.
Co-salutatorian Traci Nahsonhoya said the ceremony marks the end of their high school career and the beginning of the next part of their lives. She said the past four years were challenging, but she improved in many ways with the guidance of teachers, counselors, classmates and most of all her mom. She asked her classmates to remember their first day as freshmen and the obstacles they have faced since then.
"We are proof that any student can reach any goal that they put their mind to," she said. "I wish you luck with your future choices. We did it. Is the world ready for us?"
Co-salutatorian Stacy Charlie apologized at the start of her speech for being "emo." She said she had floaties representing her family and friends because they were the ones who helped her.
Hopi Vice Chairman Clark Tenakhongva thanked everyone for attending, but especially those who came from far away.
Valedictorian Sean Bolus named his speech "Because We Are Hopi." Bolus, who came to Hopi from the Philippines, recounted how he was scared and anxious when he arrived here in the fourth grade. He loves to cook and exchanged cultural cooking ideas with his Hopi classmates.
"Hopi defines us. There is no other place in the world like this," he said. "Hopi is family and strength."
Bolus said he learned life lessons from Hopi about family. He said his mother took a risk by coming to America while his Hopi dad accepted him since he was small. He said Hopi is about respect, culture and tradition.
The Hopi High Junior Reserve Officer Training Corps posted the colors. Miss Hopi Hope Honani gave the invocation.
SUBMIT FEEDBACK
Click Below to:
More like this story