Guest Column: Navajo Hopi Honor Riders complete honor run
Geri Hongeva-Camarillo, Special to the Navajo-Hopi Observer
Originally Published: June 5, 2018 11:10 a.m.
WINDOW ROCK, Ariz. — What kind of people save their vacation hours annually so they can use it to visit families who have lost their loved one while serving their country?
The answer is the Navajo Hopi Honor Riders.
Bikers can be misunderstood to be insensitive, risk takers, rough and troublemakers. That is far from the truth when describing the Navajo Hopi Honor Riders. As the riders completed the 16th annual Navajo Hopi Honor Run May 20 at Window Rock Veteran's Memorial Park, adjacent to the president's parking lot, they enjoyed one last meal together before going home.
Over a hundred bikers expressed their emotions after the four-day honor ride, wiping their tears, hugging one another and exchanging contact information. Hugging a Gold Star mother one last time before departing and documenting memories with one more photo with a Blue Star parent.
The biker family is committed to their mission and they have achieved it.
In 2003, a vow was made by the founders, who began 'Riding for Lori,' which later became the annual Navajo Hopi Honor Run. When news of U.S. Army Spec. Lori Piestewa, the first Native American female to be killed in combat, spread across Navajo and Hopi communities, this pierced the hearts of thousands of people. To date, we have many Gold Star families and Blue Star families across the Navajo Nation and the Hopi Tribe.
The 16th annual Navajo Hopi Honor Run included visiting Gold Star families of; Army Spec. Lori Piestewa, USMC CPL Olin K. Simeona, USMC PFC Emerson Martin, USMC CPL Bernice K. Yazzie, Army PFC Clint Lamebear, USMC LCPL Alejandro J. Yazzie, Army SGT Lee Duane Todacheene, Army SGT 1st Class James E. Thode, Army SGT Marshall A. Westbrook, Army SGT Clifton J. Yazzie, Army CPL. Lyle J. Cambridge, Army SGT Troy Tom, USMC LCPL Quinn A. Keith, USMC SGT Wayne H. Elwood Tsosie, USMC Vaughn McFarland, USMC CPL Shannon Lee, USMC Staff SGT Jonathan D. Davis, USMC LCPL Kevin B. Joyce, Army PFC Harry N. Shondee, Army SPC Christopher J. Moon and Army SGT Christopher Gonzales.
Hopi tribal member Rod Duwala, who is from old Oraibi, rode in this year's annual honor run. His Hopi clans are Rain and Corn. He graduated from Phoenix Indian School in 1980.
Duwala joined the USMC in July 1980 and spent thirteen years in the USMC, leaving the military in October 1993. He is a Desert Storm veteran.
One year later, he joined the Arizona National Guard. In 2003, he was deployed to Iraq. There, he saw Piestewa for the last time.
"I saw her last at the post exchange," Duwala said. "She was very young and she was very happy and nothing to worry about. She was talking to another Hopi soldier from Moenkopi."
Duwala retired as SGT. 1st Class in 2009.
He rode with Navajo Hopi Honor Riders for the first time four years ago.
"It's healing time for me, to remind me not to take things for granted," Duwala said. "Some of these families we visit want to talk to a veteran directly, some ask questions, like 'why did it happen?' It brings them comfort, to have us with them even for a short time."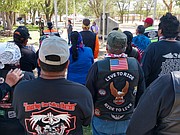 Motorcycle riders from Canada, Minnesota, Virginia and Wisconsin joined in the 16th annual Navajo Hopi Honor Run, some for the first time and other riders where repeats like Chief Clarence Louie from the First Nation north of U.S. border.
Two brothers from the Ho-chunk Nation of Wisconsin also had a common goal to help honor our fallen warriors. Both Bruce and Kelly LaMere rode all four days. Some riders joined the annual honor run for a day or two to show their support to all the Gold Star and Blue Star families.
Support for veterans came in all elements; from riding with the group, volunteering at host locations, cooking meals for hundreds of riders, route planning, conducting safety meetings, working directly with sponsors, website and social media disbursement, artwork for t-shirts and merchandise, coordinating registration for all riders and working with all Gold/Blue Star families.
NHHR board members include; Bobby Martin, Chris West, Michelle West, Leon Curley, Adolph Soliz Sr., Lynette Goldtooth and Geri Hongeva-Camarillo, all volunteers who spend a great deal of time throughout the year to plan for the annual honor run.
"To all the sponsors and people that donated, thank you for your outpouring support and belief in this organization and what it is trying to accomplish," said Chris West, NHHR vice president.
Sponsors include: Navajo Energy Transitional Co, High Desert Cyles, Northern Edge Casino, Office of the President and Vice President, Office of the Speaker, Running Strong Foundation, Bishop Optical, Ute Casino, Ute Tribe, Oklahoma Indian Art Gallery, Navajo Times and many donations from individuals.
The safety of all riders is a heavy task. Road guards and law enforcement from several different agencies including the Navajo Nation Police, Apache County Sheriff's Office, Page Police Department and Hopi Police, all ensured the safety of Navajo Hopi Honor Riders as they helped direct traffic and clear congested areas.
"I must say this ride sure can humble you. Each family, each community and every person brings a special story or a moment and it reminds us as to why we ride," explained Bobby Martin, NHHR president.
It all started nearly 16 years ago with one person, Spec. Lori Piestewa.
Today, Navajo Hopi Honor Riders ride for all fallen warriors here in the Southwest. Hundreds of people humbly come together in prayer and dedication to help Native American veterans and military families. This year riders from Arizona Nation of Patriots and the Endless Riders from Gallup, New Mexico both joined the honor run.
SUBMIT FEEDBACK
Click Below to:
More like this story