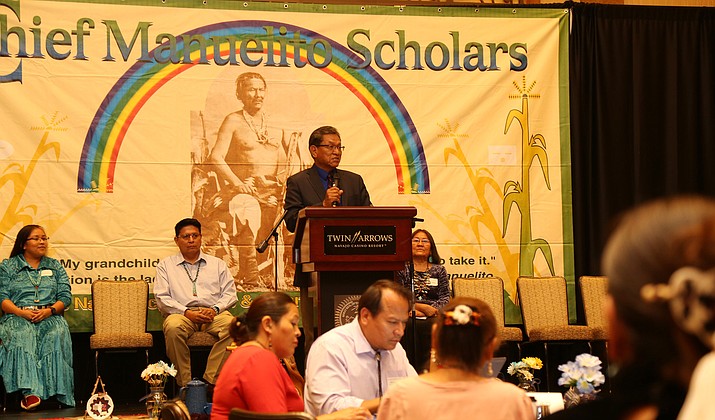 Originally Published: July 31, 2018 11:44 a.m.
TWIN ARROWS, Ariz. — On July 25, Navajo Nation President Russell Begaye congratulated 132 Navajo scholars who were awarded the 2018 Chief Manuelito Scholarship.
Begaye encouraged the students to pursue studies that advance technology to the benefit of the Navajo Nation.
As one of the largest tribes in the United States, Begaye said the Navajo Nation is broadening the range of its economic development to include a Navajo Managed Care Organization (MCO), a Navajo crypto currency coin and additive manufacturing industries.
Because global commerce is less dependent on one standard unit of measure, Begaye told the students they need to lead the Nation toward developing its own cryptocurrency.
"The business dealings of the Nation need to be globalized and not restricted to currency based on one particular national standard. We shouldn't be dependent on banks and the dollar bill," Begaye said. "We need a Navajo coin that the Nation can use to trade and buy goods from around the globe."
Begaye also talked about the need to develop a satellite system that will provide stronger internet connection across the reservation. The need for reliable wireless connectivity is important to the Nation's emergency response systems.
Begaye recently met with global defense contractors, Lockheed Martin, to explore opportunities in bringing additive manufacturing to Navajo.
Last August, the Office of the President and Vice President, Navajo Technical University, Morf3d and Boeing announced a partnership to educate four students in additive manufacturing.
"We've helped develop programs to prepare the Navajo workforce for the future of 3D technology," Begaye said. "When we launch our Navajo satellite into space it will be made with parts manufactured by the Navajo people."
The Navajo Nation is on the verge of implementing its own Navajo owned and operated MCO in New Mexico. The Nation is working to manage Medicaid coverage for all tribal members in the state.
Begaye told the scholars that implementing the Navajo MCO would redefine Navajo health care specific to the needs of its membership. The MCO would also provide revenue to help build specialized care that isn't currently available.
"A Navajo health system is developing as we speak. It will include children's hospitals, oncology facilities and 24/7 clinics throughout the Nation," he said. "We will provide our people with the care they need and you will be the ones to drive this endeavor."
At the ceremony, Vice President Jonathan Nez and Honorable Delegate Jonathan Hale joined Begaye in presenting the 2018 Chief Manuelito Scholars with honorary plaques.  
Former Chief Manuelito Scholar, Kellylynn Zuni was the keynote speaker. The ceremony also featured UNM Associate Professor, Dr. Jennifer Denetdale who presented on the legacy of Chief Manuelito.
Information of the Office of the President and Vice President