Navajo artist creates Native superheroes for new comic book
Navajo artist Shaun Beyale's newest comic book is set in futuristic post-apocalyptic Southwest; 'Ayla, The Monster Slayer' to be released at Indigenous Comic Con
Originally Published: July 31, 2018 12:45 p.m.
WINSLOW, Ariz. — Artist Shaun Beyale believes Native people are living in a post-apocalyptic world and that is the inspiration behind his upcoming comic book 'Ayla, The Monster Slayer,' which he hopes to have ready by Indigenous Comic Con in November.
Beyale, who is Navajo, was born in Shiprock, New Mexico. He grew up in Farmington, New Mexico and has lived in Winslow, Arizona for a little less than a year.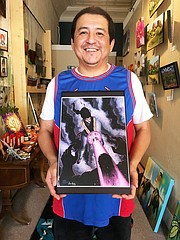 Beyale said he has always known he wanted to be an artist.
"I never said I wanted to be, but I think I knew I wanted to be because I've always been good at art," he said. "Just growing up, the thing that really gravitated me toward art was comic books."
Beyale grew up without electricity or running water — there was no option of listening to a CD or watching a movie on TV. His entertainment was comic books.
"Even when my friends got too old for that, I still liked it. I still like drawing, that's the art style I was drawn to," Beyale said. "The thing I liked about comic books, even though I didn't know it when I was younger, was the parallels between that and my cultural stories, my Navajo cultural stories."
The genre of comic books is vast but Beyale was drawn toward super heroes because it reminds him of the old, traditional stories of good versus evil. The Hero Twins, which are part of his Navajo culture, provided the idea for the comic book he is working on.
"I use my cultural stories as inspiration and a jumping off point to create something new and something more modern," Beyale said, which has resulted in the comic he is working on, 'Ayla, The Monster Slayer.'
The comic book is a futuristic post-apocalyptic comic set around the Southwest area with aspects of things that Beyale likes, like his culture, comic books and heavy metal.
"I like super heroes, so that is what I wanted to create, but, at the same time, I wanted to create my own indigenous heroes," he said. "Something that is created by me and not created by some outsider. For me, that's what I wanted to do."
Beyale said he has always noticed in mainstream pop culture that Native people are always portrayed in the past and always in a romanticized way. Beyale wanted to create characters who were more contemporary.
"That's why I wanted to set [the comic book] in the future because you don't see a lot of indigenous people or characters in the future, especially in a post-apocalyptic future," he said. "As indigenous people, we're living in a post-apocalyptic world right now."
As a child, Beyale was drawn toward movies like 'Mad Max: Road Warrior.'
"To me, that didn't' seem too far off," Beyale said. "That just looked like over the hill from my house, which was different for my other peers, who maybe lived in a city and they're like, 'That looks so weird.' But I was like, no, for me, that's just like the rez. There's desert, there's a wash there, there's old cars, people just trying to make do with stuff that is run down. I always liked that Mad Max universe."
Beyale thinks Native people are already ideally equipped to deal with society falling down because of what they have already faced.
"As indigenous people, living in a third world kinda place, I think we would do a lot better than mainstream culture," Beyale said. "But then, at the same time, I try to use it as the Earth restarting. So my comic book story is going to be after people got too greedy, war was happening, they started messing around with genetics and clones, which in turn, due to warfare and by creating clones, they created a virus, which in my comic book, mankind is on the brink of extinction."
The comic book is set where Beyale grew up in the Southwest, near Farmington. Ayla and another character are Beyale's Hero Twins, but he wanted to make his heroes female.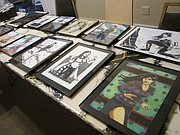 "Indigenous women are always portrayed in a more derogatory way, they're not really shown to have value," Beyale said. "But traditional Navajo society was a matrilineal society, the women were the strongest and they had a lot of the power. For me, I wanted to make my main character be a strong, indigenous female."
All of Beyale's drawing's portray strong women, something that Beyale got from the women who surrounded him growing up.
"My mom, my sisters, my grandma, my aunts, seeing the stuff they had to go through, the struggle," Beyale said. "I mean, yeah, men had to go through stuff, too, but, I think, the women have to put up with a lot more just trying to deal with stuff like family life and trying to keep the household going. So, for me, I think they are the true superheroes."
He tries to portray women as confident and sexy.
"For me what I find sexy in a women is confidence," Beyale said. "Not to be the damsels in distress, not to be the princess who needs help. They're more like the heroes who are doing the saving. Yeah, they may need help, but they are not fragile creatures. In my drawings, I make them confident and that is the thing that makes them strong."
Beyale does not discard the comic book tropes but he tries to create women who are real and he said many of his fans are women and they can see what he is trying to create through his artwork.
"The women say the women in my drawings are not stick figures, one said about his drawings, 'she's got thighs.' Another lady was like 'she's got internal organs,'" Beyale said. "That's what I'm trying to bring in my art."
And that is what Beyale wants reflected in his comic book — putting women at the forefront and making them the heroes.
"In my comic book, Ayla comes back to help the people, to bring balance and restore the health of the land and also, there are going to be monsters in my book, so that is why she is called the monster slayer," Beyale said.
Some of the monsters may be traditional Navajo monsters, but others will be crypto creatures like Bigfoot or werewolves. The main villain will be a clone queen who will make genetic creatures, all of which Ayla will have to fight. One of the last cities standing, Monster City, is ruled by the clone queen who wants to take over the land, but Ayla is there to fight the monsters and help the people find themselves again. She will teach them things that have been lost, like what seeds to plant, better hunting techniques, how to repopulate the land and how to live in balance.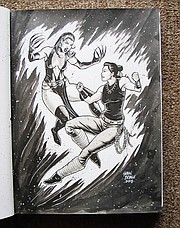 "I was trying to use stuff I liked like superheroes and comics but then bring it into my world but also trying to use stuff from my culture," Beyale said. "Being a modern indigenous person, I wanted to see a modern comic book that I think other people will like."
And it's important to Beyale to make sure people understand that just because Native people are in touch with their past that does not mean they don't also live in a contemporary world.
"We gotta do both," he said. "We can do both. We can still be traditional. We can still be modern. We don't have to be one or the other. I think for a lot of pop culture, they want you to be a stereotype. Just because I don't look the stereotype doesn't mean I don't know about my culture."
Beyale wants his comic books to be a source of education for the mass public about indigenous cultures.
"We are still here, we still value our culture," he said. "We also live in a contemporary world, so we do deal with modern things and that's what I wanted to bring in my book."
In other future books, Beyale wants to talk about social issues and social problems but within an entertainment source.
"Good comic books can, I believe, can do stuff like that," Beyale said. "It's not so much throwing it in your face but once you read it and look at it the subtle things come out."
Which is part of the reason he loved X-Men as a kid — they were the outcasts, the mutants, they reminded him of minorities — or Spider Man, someone who wasn't doing good for the fame or money, but to do good in the world.
"True superheroes are not in it for themselves, they're in it to help the community or the people and that's what I want to do with my characters," Beyale said. "Over the years, traditional stories, just orally, have changed over time, it's just my new interpretation without disregarding what came before but just trying to add to how I see my culture."
His daughter, Lillandra Ayla, is 6 years old and starting first grade this year. She is named after an X-Men comic book character who ruled half the universe. And Ayla is from 'Clan of the Cave Bear,' his wife's favorite character.
Beyale's daughter has been surrounded her whole life with the drawings of strong women that Beyale creates. Beyale wants her to know that women can be powerful.
"She sees these women as Wonder Woman," Beyale said. "I wanted her to know that women can do stuff like this. I don't tell her she can't do something because she's a girl."
Beyale gives credit to his wife and his daughter for being his biggest supporters and inspiration.
"Without them I wouldn't be here doing this," Beyale said.
Beyale's drawings can be found at Gemini Gallery in Winslow, Arizona.
SUBMIT FEEDBACK
Click Below to: