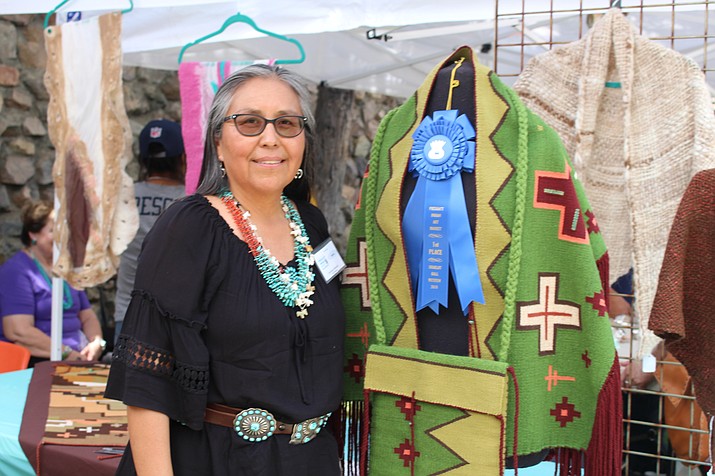 Originally Published: July 24, 2018 10:20 a.m.
PRESCOTT, Ariz. — Veronica Benally won Best of Show and several other Navajo artists took home top prizes at the 21st annual Prescott Indian Art Market (PIAM) July 14-15 at Sharlot Hall Museum.
Baje Whitethorne Sr. won first place in for his watercolors in two-dimensional art, Tahnibaa Naataanii won first place for her weavings in traditional arts, Tim Washburn grabbed first place again for his sculptures and Melissa Antonio took first place in the pottery division.
Veronica Benally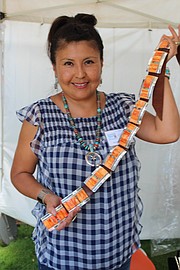 Benally, although she has won many awards, said she was surprised that she won Best of Show at PIAM because there were so many other great artists at this show.
"But I am grateful," she said.
Benally said her jewelry is different from most Native American artists because she mixes traditional colors with modern designs. She uses more orange than turquoise such as on a concho belt that has orange shells on it. She lives in Baja, New Mexico, where she trades with a man who brings the shells.
Aside from the concho belts, Benally creates rings, bracelets, bolo ties and cufflinks. She has been working on her jewelry for about 20 years.
Benally did not go to art school and credits husband Ernest with teaching her inlay.
"I went to husband academy," she jokes.
Her family is full of art as her grandmas are rug weavers and her uncles and aunts are silversmiths.
"I learned designs from watching them, but I think it's built in genetically," she said.
Aside from family members, Benally said she also learned from artists such as Veronica Pablo and Jesse Monongye.
Benally likes jewelry over other art forms because she finds self-expression in the stones. She also likes to use colors that other jewelers don't use.
Her advice to youth who are considering going into art is that they should not be afraid.
"Youth should not be afraid to explore new techniques, stones and colors," she said. "Fear hinders people."
Among her many awards, Benally won Best of Show at the Museum of Man in San Diego, California last year. The University of San Diego then purchased the winning piece for their collection
Benally, whose work is shown in at least eight shows per year, said she likes PIAM's show because artists have a more intimate time with the customers because the show is smaller than many of the other shows.
"Other shows have swarms of people. This is more laid back," she said. "I'm grateful to all the museums that have Indian markets where we can express our art and share with the world. I appreciate all the people that come out to see our art."
Baje Whitethorne Sr.
Whitethorne is one of the best-known Native American artists on the circuit partially because of his own successes and partially because he is one of nine siblings who have all turned out to be artists in one form or another.
One of the themes for this weekend's discussion was rain because there was a downpour on the show on Saturday afternoon. While this might not have sat well with some artists, most of the Native American artists were grateful for the rain. Whitethorne was one of those artists.
Whitethorne, who has rooms of ribbons at home from his first place prizes, said he was surprised he won this time because it was based on a piece he put together at the last minute.
"I needed something new and I couldn't do something for awhile. I needed a new mindset so then I started two pieces and they came together," he said. "But it does not get old winning prizes."
For his watercolors, Whitethorne uses red, yellow and blue, but sometimes those colors combine to come out as orange, turquoise and other bright colors.
Whitethorne has been in the art business for more than 40 years and has been coming to PIAM for 21 years. He appreciates that they put his booth in the same location every year, so people know where to find him. Aside from his well-known water colors, he also creates jewelry and sculptures.
Whitethorne said he stays motivated for his art because it relaxes him and it is his passion. It also helps that his work is non-stop because people are constantly calling or stopping by to place orders. This is aside from the two to three shows he goes to each month.
"I get people from all over the world," he said. "Some people come to see me each year so then I meet their families and their kids and grandkids. Then their kids start selecting the art that they want."
While Whitethorne lost count of his awards years ago, the award that stands out the most is the one he won in the eighth grade. It was a print at the Museum of Northern Arizona Navajo Show. Aside from the blue ribbon, the award came with $8.
"My parents couldn't afford to clothe us, so I learned how to do art for pocket money," he said. I was able to give my brothers and sisters shoes."
Whitethorne is the third oldest of the nine children. His mother was a weaver and his grandfather drew pictures of horses.
"That's what started my interest. I just like to draw," he said. "My brothers and sisters could draw. My brother Billy drew like Alan Houser."
Whitethorne's advice to youth who want to go into the arts is that they need to set time aside to work on their art.
"It doesn't have to be all day. Take just an hour and learn how to work. You have to work in order to get something back," he said.
Whitethorne said art school is great, but when students leave art school they will have to learn how to work on their own.
Tahnibaa Naataanii
Tahnibaa Naataanii took first place in the traditional arts for her weaving. Her husband, Terry, said his wife was awestruck and beyond words when told she took first.
"It was because we were blessed with beautiful rain," she said about taking first.
Naataanii said her weavings are different than others because she expresses herself with innovation. The winning shawl was in triangular shape and it was in unique kiwi green, but had borders in avocado green.
"There is a lot of love and respect in my weavings," she said. "I enjoy my work because my weavings are a part of my identity. They are like my children."
Naataanii is teaching her 14-year-old daughter to weave, which seems only right since weaving was passed down to her by her grandmother.
"My grandma gave me my Navajo name which is "Tahnibaa Attloohiigii," which means Tahnibaa the weaver," she said.
Naataanii was a sailor, postal carrier and environmental scientist before coming back to weaving for a career.
"It's a simpler way of life. I just herd sheep and weave," she said.
Naataanii, who lives in Table Mesa, New Mexico said her mother, Sarah, was her art teacher and continues to serve as her mentor. Naataanii graduated from Aztec High School before joining the Navy.
Her advice to youth who want to weave is to open up their minds and hearts to learn about weaving. She said weaving involves the land, science because you have to learn about dyes and biology because you have to learn about the plants.
Naataanii said weaving has given her the chance to work at home, but travel the world. She has been on weaving trips to Croatia, Laos, Europe and Africa.
"Weaving also gives me the chance to learn the ways of my grandmas and grandpas past. It keeps our heritage alive," she said.
Her message to the youth is that it's never too late to learn because she did not learn to speak her native Navajo until she was in her 20s.
Naataanii also likes the PIAM show.
"I like this show because it's cozy and there are a variety of artists. Sharlot Hall's hospitality is gracious. We're like a family. Some of the other shows are too big, but they take care of you here," she said.
Tim Washburn
Tim Washburn, who seemingly wins the sculpture division every year, won again this year. The winning piece was called "Four Clans" with two men and two women. The story behind the sculpture is where the four clans originated. The men in the sculptures are a warrior and a medicine man. The sculpture includes, on the bottom, a bear, a cougar, a mountain lion, a horny toad and a porcupine.
"This sculpture came naturally because it's connected with the story," he said.
Washburn, who is Navajo from Kirtland, New Mexico has been working on his art form for 36 years and it doesn't get old because it is connected with his spirituality.
"There is also the connection with the stones," he said.
Washburn said the creativity involves the colors, shapes and whether the sculpture should be realistic. Washburn is also different because some of his sculptures are Native American based and some are non-Native American.
"There's a big difference between the two, but that's just my perspective," he said.
Washburn considers PIAM one of the best shows in the country because of the weather, location and the people.
"It's a good small show. It's not overcrowded like some shows," he said.
Melissa Antonio
Melissa Antonio, who hails from Acoma Pueblo in New Mexico, said it felt great and awesome to take first place in the pottery division. She said she was surprised that she won because there were 72 overall entries from an impressive array of artists.
Antonio grew up in a family of potters. Her mom is a potter and her husband's mom is a potter, so she has been working on this craft for 30 years.
Antonio's winning piece was a seed pot with a design swirl. The seeds can grow in the pot. She uses white for the earth, black for clouds and a touch of orange for the sun. She also uses a feather design for prayer. She loves this craft because she likes to watch people's reactions to seeing her pottery.
"When people see it then it's a good feeling," she said.
Her 13-year-old granddaughter watches her work on her pottery so she knows that the family tradition will be carried on. Antonio said anyone considering going into creating pottery mush have patience.
Last year, Antonio won Best of Show at the New Mexico State Fair.
Antonio said she enjoys going to the art shows where she meets new people and gets nice comments from them.
Antonio said she thanks her family for passing the pottery tradition onto her.
"It's a wonderful gift. It's the gift of giving us a way of life. This is the way I support my family," she said.
Antonio also thanks the original Acoma women who created the pottery because without them she would not be here.