Out and about: Mount Graham is highest peak in southern Arizona and worth a look
Originally Published: July 10, 2018 10:23 a.m.
SAFFORD, Ariz.— Mount Graham has called to this hiker for many years and with so many hiking trails closed in northern Arizona because fire restrictions, I finally answered the call.
This is a story of a mountain sacred to Native Americans, two trails and two lakes.
Mount Graham is the highest mountain in southern Arizona topping out at 10,724 feet, but more importantly Apaches consider the mountain sacred and named it Big Seated Mountain.
Mount Graham is notable to tribes and environmentalists for many reasons. The Mount Graham red squirrel may be the cutest of all the endangered species as it weighs in at eight ounces and may be one of the shortest squirrels at eight inches long not counting its six inch tail. There are only about 40 of these little ones left on Mount Graham.
Mount Graham also has native Apache and Gila trout. This mountain, known as the northern limit of the Chiricahua Apache, has one of the oldest stands of conifer trees in the Southwest and has 18 plants that grow nowhere else in the world.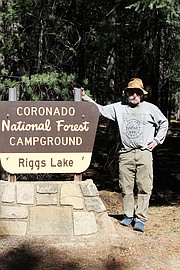 Mount Graham is also known for its beautiful springs and meadows.
Just as Navajos and Hopis battled Snowbowl on the San Francisco Peaks, the Apaches battled the Mount Graham International Observatory, which is a research arm of the Department of Astronomy at the University of Arizona. Environmentalists were concerned about its impact on the red squirrel and four tribes were concerned about protecting their sacred mountain. In 1988, Congress approved going forward with the observatory that remains there today. The higher elevation, where the observatory is located, is among the last remaining habitats for the red squirrel.
Mount Graham has many spectacular trails on it. We tried two of them, both above the 9,000 foot marker. Clark Peak Trail offers spectacular views going back and forth across the ridge. However, the trail is not well marked and my grandson Nic Basham and I ended up on an old jeep road, which was okay because there was a marvelous stand of aspens. This trail, like many trails on the mountain, hooks into other trails. There have been several fires on Mount Graham, but they have not impacted the part of the trail we were on.
The second trail was Grant Hill Loop Trail, which is 5.6 miles, but loops into other trails. Grant Hill Loop goes along an old logging road. This was one of the burn areas as beautiful stands of orange flowers surrounded the burnt out trees.
Riggs Flat Lake on Mount Graham is a small lake at 11 acres, but campers and fishermen flock here during the summer because it is cool, since it is up above 9,000 feet. Riggs Flat Lake is stocked with trout. Boating, camping and the scenery are enticing. The lake is 40 miles southwest of Safford. Motorists take the scenic road called the Swift Trail as it climbs from 3,000 feet to over 9,000 feet on this winding road. Not everyone will appreciate the curves. The last 12 miles to the lake is not paved, but it is graded and many cars make the trek.
Roper Lake, on the way to Mount Graham, is also worth the stop. This 32 acre lake, five miles south of Safford, offers fishing, boating and swimming. It is down at about 3,000 feet so it can get hot during the summer. Fortunately we got hit with a thunderstorm that cooled us off. For hikers who like to circle lakes, Roper Lake is about two miles around while Riggs Flat Lake is about three-quarters of a mile around. Both lakes offer camping and Roper Lake has cabins for rent. One of the other features of Roper Lake is that it has a good view of Mount Graham.
More information is available by calling the Safford Ranger District at (928) 428-4150.
SUBMIT FEEDBACK
Click Below to:
More like this story