Twin Arrows Navajo Casino Resort launches first security robot in Arizona
Originally Published: July 3, 2018 9:45 a.m.
FLAGSTAFF, Ariz. —The Navajo Nation Gaming Enterprise (Navajo Gaming) announced June 27 that Twin Arrows Navajo Casino Resort is the first location in the state of Arizona and the second casino in the Nation to launch a Knightscope security robot.
Brian Parrish, interim CEO said the Knightscope K5 autonomous robot will not replace any human jobs, but will allow the Twin Arrows security team to cover more ground at the 300,000-square-foot facility and parking lot more effectively.
"The safety of our guests and team member is our number one priority," Parrish said. "Our Twin Arrows leadership and security teams have collaborated with Knightscope's engineers to create a robot that augments our strong existing system and enhances our resources in a cost-effective way, as we continuously evaluate ways to improve."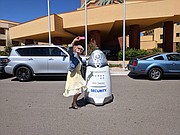 The Knightscope K5 is a 398-pound autonomous robot that provides a commanding but friendly physical security presence. The K5 gathers important real-time, on-site data through its numerous sensors, which is then processed to determine if there is a concern or threat in the area. If so, an appropriate alert notification is sent to the Twin Arrows security team through the Knightscope Security Operations Center (KSOC), the included browser based user interface. However, Parrish said, the K5 data gathering does not include personal information of guests.
"Twin Arrows K5 robot can read license plates, record, stream, send and store video; provide thermal imaging; read RFID tags; track parked cars; serve as a two-way intercom; play pre-recorded and custom messages; and detect humans in places they're not supposed to be at Twin Arrows," explained Stacy Stephens, vice president Marketing and Sales for Knightscope. "Navajo Gaming is an incredibly forward-thinking enterprise focused on creating the safest possible environment for their guests, in a cost-effective way, that frees up human security team members to handle more complex situations with a wide variety of guests from around the world."
 The Twin Arrows K5 ADM robot began testing on site June 18 and launched June 29.
 More information about the Knightscope robot is available at https://www.knightscope.com/faq/.
More like this story
SUBMIT FEEDBACK
Click Below to: