Tsaile holds first Girl Scouts STEM Camp
Navajo Transitional Energy Company hosts STEM camp June 23 for Navajo Girl Scouts
Originally Published: July 3, 2018 1:47 p.m.
TSAILE, Ariz. — Pointing to the stars under a cool Arizona night, Devon Gorman asked if any of the young girls would like to travel in space someday.
Gorman, an amateur astrologist, presented to 84 girls, ages 5 to 17, from approximately 20 communities across the Navajo Nation who attended the inaugural Navajo Nation Girl Scouts STEM (science, technology, engineering and math) Camp in Tsaile, Arizona. She asked her question because of the 45 female U.S. astronauts who have been in space, the majority were Girl Scouts.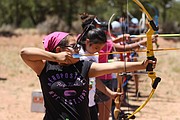 Navajo Transitional Energy Company partnered with the Girl Scouts–Arizona Cactus-Pine Council and Diné College to host the event at the Tsaile campus. The Arizona Science Center and Navajo Fish and Wildlife also contributed.

For Neviayah Yellowhair, of Blue Gap, the science center's chemistry presentation was the most memorable.
"It was cool how she made fire," the 12-year-old said. "l like to build things. If the other girls don't have building equipment at home, they had it here."
There are an estimated 200 Girl Scouts registered on the Navajo Nation, stretching from Crownpoint to Tuba City, but many of these girls are unable to attend STEM activities in surrounding cities.
"NTEC recognized this disparity and decided to bring STEM to our girls," said Nathan Tohtsoni, NTEC education coordinator. "The girls were able to earn multiple badges, in addition to STEM. We hope with the presentations and bringing in positive female role models a light will develop, and the girls will see STEM as a viable career choice."
Tamara Woodbury, CEO of Girl Scouts–Arizona Cactus-Pine Council, said the Girl Scouts program has proven to be a great way for young girls to get interested in STEM.
"Many people are not aware that every female tech leader who was born in the U.S. was a Girl Scout, and almost every female astronaut that's gone into space is a Girl Scout," Woodbury said. "We also know that girls are an untapped resource in technology. We need to reach more girls early so that they find technology to be an interesting area and have the opportunity to develop a desire to make an impact in STEM fields."
Lois Palmer, of Montezuma Creek, Utah, accompanied 10 girls from Troop 2512.
"Most of our girls didn't have that many patches and when they do earn them, we have to buy them. It can get expensive," Palmer said. "It was pretty cool they were able to earn a lot of patches in just a few days."
Charmayne Halkini brought eight girls from Troop 3559 in Chinle, including one from Kykotsmovi on the Hopi Reservation.
"This is the first camp most of these girls have done. For some of them, this was the first time away from home," Halkini said.
Ava Tso, 7, of St. Michael's and Hailey Smiley, 10, of Chinle, enjoyed fishing at Tsaile Lake.
"I had fun at the lake. I liked the chemist," Smiley said.
"I liked the activities. I liked fishing," Tso echoed.
The guest speakers who presented to the girls included Navajo Nation Second Lady Phefelia Nez, Council Delegate Amber Crotty, Miss Navajo Crystal Littleben, physicist Joni Tallbull and Devon Gorman of Chinle.
Nez addressed a combined cookout of the Girl Scouts and participants of a Diné College Agricultural Youth Camp. She discussed how girls are acculturated from birth to play with "girl toys."
"All one has to do is look down the toy aisle and you will see dolls and princess stuff for the girls. You look down the boys' aisle and you see trucks and Legos for them to build. I'm thankful for the STEM camp, so the girls know they can be engineers," she said.
She encouraged all the kids to visit and attend camps on college and university campuses, so when they get older, they won't be intimidated.
Crotty, a former Girl Scout, encouraged the girls to live by the Girl Scout motto and be courteous, kind and trustworthy. She then led them in an impromptu karaoke session. Her youngest daughter was among those participating.
Tallbull, a physicist with the Navajo Abandoned Mine Lands Department in Shiprock and a former Girl Scout, talked about how she was one of a few females in her classes at Occidental College in Los Angeles.
"I struggled. I didn't see anyone who looked like me," Tallbull said. "If you're thinking about going into STEM, it is a really great field. At this camp, you are learning new skills. When I was in the Girl Scouts, we were problem solvers and I use those skills today. When I go home, I'm going to tell my (one-year-old) daughter I met these young girls and they're the future."
Among the highlights was when nine new girls were pinned as new Girl Scouts, which included Miss Navajo. Littleben then participated with archery.
Another highlight was when Yellowhair lost her footing at the lake and slipped. As she rolled up her bedding, one thing for sure is her footing is more solid on what she would like to pursue thanks in part to the new skills she obtained at the Girl Scouts STEM camp.
SUBMIT FEEDBACK
Click Below to: