Sushi on the rez?
Originally Published: July 3, 2018 1:40 p.m.
Carlos Deal, a Native entrepreneur, says yes.
Deal now offers veggie sushi out of a food truck located by Chevron on Highway 64 in Tuba City.
He calls his company AlterNativEats and its healthy, feel -good food.
You can find him on Facebook under Alternativeeats to find out what days he is open, which is three or four days a week.
Deal is originally from Big Mountain, Arizona on his family's ranch but he also grew up in Tuba City, where people come to work.
Why Tuba?
"Why not?" Deal asked. "There's a market for it. People have to travel more than an hour away to get sushi."
Deal emphasized that he is not serving crazy sushi — it is basic veggie sushi. When he worked at Hiro's in Flagstaff, he asked his boss what Native people ordered. The answer: California rolls and cucumber rolls in addition to fried food and fried vegetables.
"Dealing with the meats out here, especially chicken, beef or pork, it's a headache to deal with out here," Deal said, though he said because he has a cooler, he may bring in some smoked salmon and spicy tuna.
The inspiration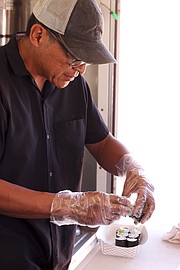 Deal went to culinary school in Boulder, Colorado. He was introduced to sushi a long time ago by a good friend of his and while he did not know this at first, he came to find out Japanese food reigns supreme throughout the world.
"They hold more Michelin stars than Europe combined, meaning Italy, France, Germany," Deal said. "I kinda rebelled against the stereotypical European idea of what a chef is supposed to be. I got into Japanese food and working at a Japanese restaurant…in Denver."
A friend and mentor, Twan, who is from Vietnam, gave more inspiration to Deal. Twan came over on a boat as a refuge as an infant. He almost died at sea.
"That even got me more into Japanese food," Deal said. "It was better teachings. I really admire working with my Japanese mentors. Twan was Vietnamese, but he was a Japanese chef. I enjoyed being under his mentorship."
At another restaurant in Denver he met another person who left Japan with $500 in his pocket but who has now built up quite a business for himself; he can buy real estate and gets first pick at fresh fish.
"Just watching him, he was a really inspiring guy to work with," Deal said.
The dream
Deal said his dream is a restaurant cooking solar cooked food.
"I love sushi," Deal said. "I've been doing it for the past five years.
The man who owns the Chevron, where the food truck is, also owns the food truck and has given Deal a good deal.
"He's supportive," Deal said. "He sees the market for it. He wants some of it before someone else grabs it. I'm glad he took me under his wing and he's kind of a mentor also. I'm very fortunate. If I just push hard enough, work hard enough. Keep going at it and talking about it all the time.
Deal said surrounding himself with people who believe in his dream is important, too.
"This life that was given to me, this life I live, the mistakes I've made, the places I've been, the

people I've met, love and hate,

I would not change a thing.

— Carlos Deal AlterNativeEats owner
"Expressing your goals and your ambitions as much as possible, someone hears you," Deal said. "That's what happened. It's the law of attraction, attracting people I want to be with and I want to surround myself with successful people because I want to be successful."
Helping out
Deal is looking for a cashier to work two hours a day during the lunch hour and during events.
"I would like to get to the point where I can train somebody and I don't have to be here and overseeing and doing the executive chef type of things," Deal said.
Deal also thinks about others who have goals and ambitions, who face challenges, adversity and obstacles, should keep moving toward their dreams.
"It's worth it," he said. "I feel that we really need to encourage our community."
Deal said he has been looking at the same broken windows for four years and driving on roads with the same pot holes, but he knows that others have dreams, too.
"I don't think it's in the government or institutions, I think it is in us," Deal said.
Help for reservation entrepreneurs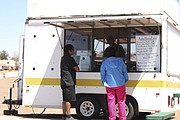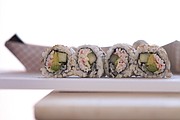 Grand Canyon Trust's Native American Business Incubator (NABIN) helps Native entrepreneurs confront the challenges of starting businesses on the reservation. Some of those challenges include little capital, no networks, no financing and a lack of infrastructure.
Deal said he has been blessed to be working with NABIN.
"The tools that they've given me, the courage that they've given me, the motivation they've given me," Deal said. "They've brought together a group of people who were comfortable around each other. We have a common bond, we're entrepreneurs. I really feel good, going to classes and meeting those guys."
He said that conversation with other entrepreneurs on the reservation can be difficult because they might not understand the struggle that business people have on the reservation.
"I'm very happy for the Native American Business Incubator," Deal said. "I support them. They're doing an amazing thing. They are planting seeds to true independence, sovereignty and freedom. It's going to grow. It is growing as it is."
He said the other entrepreneurs on the reservation just need some encouragement, too.
"Because out here that push, that little bit of encouragement, goes a long way," Deal said. "I really, really appreciate my community members in Tuba City for supporting the small business. Without them, I wouldn't be here. I owe them a lot."
Deal has plans to give back to the community. He has worked with Rumble on the Mountain and he will be at the Pinon Career Fair and Tuba City Fair and other events that help the Native community.
A good tired
"My alarm goes off at 5 a.m. I hit the snooze for an hour. I roll up about 6:30. Around 7 a.m., I'm going and my day ends around 1 -1:30 a.m.," Deal said. "But it's worth it. I love it. I would rather be doing something. I'm doing something for myself and I take pride in what I do. I feel happy. It's a good tired, a good fatigue."
Deal said he learned that from his grandparents, who instilled the work ethic in him when he was working on the ranch.
"They led by example," Deal said. "They were very successful ranchers. I don't remember them wanting anything. When we went to the store, we only went for flour, coffee sugar, maybe some bacon. My grandma, before we went to town, she would butcher a sheep. She would take that mutton into Orabi. Rather than being a consumer, she took product out there, she sold the mutton. She sold wood and traded. We would come back with boxes of pikki, apricots, peaches, yeast bread."
Deal said looking back, he can see that his grandmother knew what she was doing.
"She was a business woman," he said. "I remember as a child, people coming by and buying sheep from her. She accumulated jewelry and baskets and all kinds of stuff. I also remember her being very shrewd and straightforward. I didn't know it at the time, but she was teaching me things. Now, I look back on it as I'm doing my own little thing, I understand and realize in hindsight, that's what she meant."
Another chance
The road to owning his own business has not always been an easy one for Deal. In 1995, when he was 18, Deal went to prison for shooting someone in Tuba City.
"I'm a convicted felon," Deal said. "I'm not perfect. I'm not this amazing person. I'm a human who believes in himself. I'm a father who has six kids with three different moms. But I try every day."
He has spent 15 years thinking about the dream he is now living. He wants to be able to leave something for his kids and all the people who have supported him through those years.
"I just want them to know, my friends and family who have listened to me blabber and blabber about doing something like this, I want them to know, 'Thank you for being there for me, thank you for your support.'"
He has two daughters in Alaska: Valerie and Nishona Deal; a son in Phoenix: Jadian Maho; two sons on the reservation: Carlos Deal Jr. and Shane Calamity.
"I love my kids," Deal said. "I think of them every day. I have a dream or vision of all my kids and I having dinner together on a long table, a white table cloth, beautiful center piece. I see us all smiling and enjoying family. My family. One day, I'll have all my kids at once. This life that was given to me, this life I live, the mistakes I've made, the places I've been, the people I've met, love and hate, I would not change a thing. I wouldn't trade this life I'm living. I'm just starting and I'm 40 years old and I'm excited for what challenge the future holds."
SUBMIT FEEDBACK
Click Below to: