Carbon monoxide detector saves lives of Second Mesa family
Originally Published: January 23, 2018 12:02 p.m.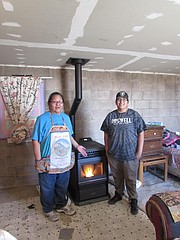 SECOND MESA, Ariz. — On Jan. 19, Red Feather Development Group, with help from Roof Dancers, installed a new stove for the Lomabalaquihoya family, a result of a Giving Tuesday campaign by Red Feather.
Red Feather Development Group is a nonprofit with offices in Flagstaff, Arizona and Bozeman, Montana, which partners with Native American communities to develop and implement sustainable solutions to the housing needs in their communities. The Lomabalaquihoya's, Robert, Carolyn, Tierra, Hasting, Sikuyva and Jerraye live in the Village of Shungopavi. Robert is Tobacco clan and Carolyn and the kids are of the Blue Bird clan.
One night before the family went to bed, they started a fire in their old stove, which they have had for years. About 2 a.m., Carolyn was awakened to find the carbon monoxide monitor going off and the house filled with smoke.
"I looked and the whole house was filled with smoke, real, thick smoke," Carolyn said.
Red Feather had installed the monitor when they were working on the house a couple of months before as part of Red Feather's Do-It-Yourself Home Weatherization workshops, which both Carolyn and Robert were a part of.
"I was thankful they did that otherwise we would have never woken up," Carolyn said. "We were so thankful they had installed that. I didn't smell it or anything. It's a silent killer. We never knew it was happening."
She quickly shook her husband awake and they were both immediately worried because their youngest son, Sikuyva, has asthma. The family ended up putting their son outside in the snow so he could avoid the smoke and carbon monoxide until the house cleared out.
Wood and coal stoves can be dangerous
Carbon monoxide is a concern on the Hopi and Navajo reservations, where many people heat with coal or wood. Carolyn said the stove is an old one. The stove cracked where the pipe fit into the stove and the Lomabalaquihoya's didn't know that it had cracked until that night.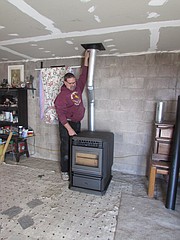 David Gerhard, owner of Roof Dancers, a stove retailer and installer in Flagstaff, said he suspected that a cracked stove pipe may have led to a chimney fire, which caused the smoke to come back into the home. The Lomabalaquihoya's were very lucky the roof did not ignite, Gerhard said.
Mark Hall, executive director for Red Feather Development Group, said there are two main reasons a stove like the Lombalaquihoya's might crack — the stove was not designed for coal, which burns hotter than wood.
"A stove that is rated to burn wood is not designed for the high temperature that coal can generate, either the stove can crack, which can lead to carbon monoxide poisoning or the stove pipe can get too hot and catch the roof on fire," Hall said.
The second reason a stove might crack, an old or even a relatively new one but made with cheaper materials, is it essentially wears out — the continuous heating and cooling stresses the metal to the point where it cracks and can lead to carbon monoxide poisoning.
At low concentrations, carbon monoxide gradually seeps into the blood stream, making a person feel sicker and sicker. At high concentrations, people can rapidly fall unconscious. Each method can lead to death.
The symptoms of carbon monoxide poisoning resemble the flu: headache, nausea, fatigue. Continued exposure or higher concentrations can lead to confusion, dizziness, weakness, drowsiness, severe headache and fainting. If the brain doesn't get enough oxygen, carbon monoxide exposure can lead to unconsciousness, coma, permanent brain damage and death.
"We estimate over half of Navajo and Hopi households rely primarily on coal or wood to heat their homes," Hall said. "Many stoves are old and potential risks. Most people are aware of the dangers associated with burning coal in a wood stove, but we still come across some who don't know this."
Hall said Red Feather also encounters many stoves that are not vented properly, which is both a fire risk and a health risk because particulates in wood and coal smoke, if leaked into the home either through a damaged stove, improper ventilation or by being sucked back into the house from the outside, can create or aggravate respiratory and cardiovascular health problems.
While the Lombalaquihoya's stove burned both wood and coal, the smoke was a problem for Sikuyva, and the smoke the stove put out was a problem.
"He was always constantly sick with the smoke, in the winter, because of the smoke," Carolyn said.
The night the carbon monoxide monitor went off, Carolyn found Sikuyva with a blanket covering his face.
"Good thing he had his head covered with a blanket, he must have been feeling it already," she said.
Red Feather provides some education on safe heating practices and gives carbon monoxide and smoke alarms to its Do-It-Yourself Home Weatherization Workshop attendees. Red Feather also recently won a grant, with partners with the University of Arizona and Northern Arizona University, to develop a new Do-It-Yourself Healthy Heating workshop in 2018.
With over half of all Hopi and Navajo households relying on coal or wood to heat their homes, harmful particulates and gasses can compromise not only a family's health but also poses a greater risk to others in the community, especially those who already have difficulty breathing.
"Our goal is to educate families on alternative heating choices and ways to reduce risks associated with wood and coal burning," Hall said. "We are grateful to our academic partners and for the funding support provided by the Agnese Nelms Haury Program in Environment and Social Justice."
Red Feather's Giving Tuesday campaign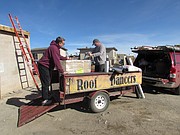 On Jan. 19, Red Feather and Roof Dancers installed a new pellet stove for the family — a result of a Giving Tuesday fundraising campaign sharing the Lomabalaquihoya's story with its Facebook fans.
Hall said the support was overwhelming.
"It reassured me that many understand the importance of a healthy home, and we can connect their desire to help to the families that need it," Hall said. "We are able to connect families to the resources they need to solve their own health and safety problems through our Native Home Resource Network. Red Feather is able to provide this program to Hopi and Navajo limited income families thanks to a grant from Wells Fargo."
Hall said that Red Feather is not only grateful to Gerhard for his generous discount on the pellet stove for the Lamabalaquihoya's but also for delivering it to Shungopavi, nearly two hours from Flagstaff at no additional charge, and doing the installation himself.
"With his 40 plus years of selling and installing stoves, we felt confident we were providing the family a safe and efficient way to heat their home," Hall said.
Carolyn said the family is grateful that Red Feather found a stove that would be better for their son and emit less smoke into the house.
"They said that would be better for him. It doesn't produce as much smoke or stuff," Carolyn said.
And with the Navajo Generating set to close in 2019, uncertainty surrounds whether Peabody coal will remain in business – a source of free coal for families in the area.
Carolyn says other families on Hopi or on the Navajo reservation could also use pellet stoves to lessen the health dangers, and she and Robert have donated works of art for Red Feather to use as fund raising raffle prizes and offered to donate more as their way of expressing their gratitude and to help other famili8es in their community in need of home health and safety assistance.
The Lomabalaquihoya's also provided the workers from Roof Dancers and Red Feather with Hopi tacos.
For now, Carolyn said she is grateful that her family is still here.
"Thanks to Red Feather and the carbon monoxide detector, we were saved," Carolyn said.
SUBMIT FEEDBACK
Click Below to:
More like this story