Begaye gives state of Nation address in Phoenix
Originally Published: January 23, 2018 1:35 p.m.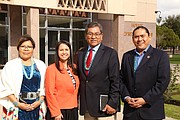 PHOENIX — On Jan. 10, the Arizona Governor's Office convened around the 23rd Indian Nations and Tribes Legislative Day at the State Capitol in Phoenix.
Navajo Nation President Russell Begaye was one of three tribal leaders who provided a State of Tribal Nations Address. Yavapai-Apache Nation Chairwoman Jane Russell-Winiecki and Tohono O'odham Nation Chairman Edward Manuel also addressed the legislature.
The president called for state and federal recognition of tribal sovereignty in addressing legislations that affect tribal nations.
"When it comes to bills and legislations, the legislature should always consider Native Americans," he said. "Bills and legislation can often pit tribes against each other. As tribes, we cannot have an 'us versus them' mentality. We need to remember that we are all a part of the great state of Arizona."
According to a 2017 Arizona Department of Gaming tribal contributions report, tribal contributions to the Arizona Benefits Fund were over $89 million dollars. Begaye supported the critical impact that tribal gaming has in areas of education, public safety, and trauma and emergency care.
"Indian Nations in Arizona give approximately $100 million dollars a year to the state coffer, which goes toward supporting education, trauma centers and public safety programs. We are asking the state to support gaming exclusivity and modernizing Arizona Indian gaming, which will provide more revenue to the state," he said.
The president called for tribal unity in fighting for, and protecting, water rights and natural resources. He warned tribes to prepare for future droughts and the repercussions that water shortages will have on their lands and governments.
"We must be prepared for drought and the challenges it will present," he said. "Yes, we must share our water but we should also remember that in 1922 when water allocations were made, Indian Nations were not at the table. That was wrong. For centuries, we've used the water that runs through our land. The allocation of water rights to tribal nations must be fair and equitable. These rights are still being denied to us."
Vice President Jonathan Nez was invited by the District 7 legislative delegation to attend the Opening Day Ceremony for the Arizona 53rd Legislature, which took place Jan. 8. It was at this time that Gov. Doug Ducey delivered his State of the State Address.
"We want to be engaged in decisions pertaining to our state," Nez said. "There's a government-to-government relationship between the state and the tribe: when Navajo does great, Arizona does great. When Arizona does great, Navajo does great."
As tribal nations develop their employment opportunities and local economies, Begaye said they must also improve areas of education and workforce development. He called on the State of Arizona for furthered collaboration in developing tribal communities.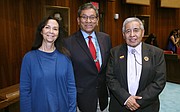 "People think that the federal government takes care of Indians and that they give us free houses, health care and education. This isn't true because if it was our nations would not be affected by diabetes and poverty," he said. "As tribal people, we are medical doctors, teachers, business owners and police officers. We've worked to accomplish things that were not given to us. Our children need to become doctors and educators. I'm asking the state to walk with us down this path and to develop strong Native American communities through education."
Nez added that Navajo Nation is a destination for tourism, especially in 2018.
"This year marks the 150th anniversary of the signing of the Treaty of 1868, which established Navajo as a sovereign nation and placed us on a higher level than the states," he said.
Begaye was joined at Tribal Legislative Day by Sen. Jamescita Peshlakai and Arizona Reps. for District 7 Wenona Benally and Eric Descheenie. Peshlakai is also an executive staff assistant for the Office of the President and Vice President and Benally is the executive director of the Navajo-Hopi Land Commission Office.
SUBMIT FEEDBACK
Click Below to:
More like this story