Begaye delivers State of Nation address at U.S. Capitol
President says Navajo Nation is not a guest, deserves a place at the table
Originally Published: January 16, 2018 10:24 a.m.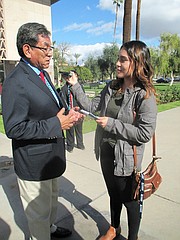 PHOENIX, Ariz. — Navajo Nation President Russell Begaye gave a fiery speech about the impact Navajos have on the state during his state of tribal nation address at the Indian Nations and Tribes Legislative Day at the Arizona State Capitol Jan. 10 in the U.S. House of Representatives.
Begaye said the Navajo Nation is 350,000 strong with representatives at many of Arizona's corporations and in positions in government.
"We are not guests. We belong here," he told the audience and state representatives.
He said too often it becomes "us against them" when it should be what's best for all Arizonans. He said every bill that is considered should include the interests of Native Americans.
He said too many people consider Navajos poor and uneducated. But, he said, they are college professors, doctors, police officers and teachers.
He said Navajos have pulled themselves up by their bootstraps.
"Nobody will do it for us, people think the federal government does it for us, but that is false. If it were true we would be the wealthiest people and the most educated. We are not," he said.
Begaye said there are those who want to divide and conquer the tribes, which is why they need to stand together. He emphasized that the tribes contribute $100 million to the state's economy each year.
"People don't realize that," he said.
Begaye said funds from the tribes go for everything from teacher's salaries to trauma centers. He said the state needs to modernize gaming so people don't need to go to Las Vegas.
"We need more revenue. That's the whole idea of business," he said.
He said drought is coming and the tribes must be ready for that. He also urged the state to get rid of dual taxation on the reservations.
"Then revenue will increase. We have some of the highest tax rates on the reservation," he said.
Begaye added that Navajo have some of the most unique incentives to get businesses to locate there.
He praised the state universities for working with the Navajo Nation and boasted that there are nine Navajos at the University of Arizona medical school.
Jane Russell-Winiecki, chairwoman for the Yavapai-Apache Nation, said during her state of the tribal nation address that this was a day to celebrate culture.
"You don't have to be elected to have a voice," she said.
Russell-Winiecki honored longtime White Mountain Apache Chairman Ronnie Lupe with a fishing pole because he said when he retires that is what he is going to do. Lupe has served nine consecutive terms over 52 years.
Russell-Winiecki said the Yavapai Apache Tribe has had many banner years, including the past year when they finished building a hotel next to Cliff Castle Casino. She said they have given money to several tribes for scholarships so their students could go to college.
She praised the successes of other tribes in Arizona saying the Salt River Tribe has a beautiful judicial complex and the San Carlos have recently opened their own college. She said the tribes have great history, but are moving forward. However, she said they also have great challenges ahead dealing with drugs and alcohol.
Russell-Winiecki said the tribes and state have much in common as they live in the same homes, drive the same cars and eat the same food. However, she said cultures and languages separates the tribes from other cultures.
She invited state legislators and the governor to visit the reservations to learn more about them.
Russell-Winiecki boasted that Cliff Castle Casino was recently voted the number one casino in Arizona by Arizona Business Magazine.
"We're not the biggest but we got out the vote," she said.
Russell-Winiecki said the Yavapai Apache always sing happy songs.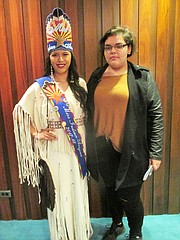 Edward Manuel, chairman of the Tohono O'odham, said in his state of the tribal nation's address that the majority of the 22 tribal councilmembers from his tribe were attending the event because they knew it was important. He said it is important for the tribe and state to move forward together.
Manuel said the tribe sends money to the state to help with fire departments and hospitals. He said the Tohono O'odham want to help elders and their college students. He said they also created a museum to protect their past.
"We still have many more needs," he said.
Manuel said the tribe works with federal, state and county government for the welfare of the people.
"We need to communicate more rather than just once a year," he said.
Manuel added that the tribe is also concerned about water.
"Water is a precious commodity. To us, water is sacred because it is our life. But water is scarce in our area," he said.
Arizona State Sen. Jamescita Peshlakai said the state has become more enlightened regarding Native Americans. She urged the young people in the audience to become leaders.
She praised the Native American veterans, especially the Navajo Code Talkers.
"This is a great day for Arizona and Indian country," she said.
Hopi Chairman Tim Nuvangyaoma said in an interview with the Hopi High School video team that this was an exciting event because he was looking forward to meeting with leaders of other Indian nations.
"It's essential to building connections for Hopi," he said.
Nuvangyaoma said Hopi and other tribes need to build up infrastructure. He said its importance to build relationships with state leaders because the tribes need assistance.
SUBMIT FEEDBACK
Click Below to:
More like this story