"Unbroken Code" film tells story of Navajo Code Talkers
Feature film by Navajo filmmaker Kody Dayish in pre-production, now casting actors
Originally Published: January 9, 2018 10:28 a.m.
Click above to see part I of "Spared."
FLAGSTAFF, Ariz. — Kody Dayish Productions, featuring Kody and his brother, Kolin and sister, Kolette, are currently making a feature film titled "Unbroken Code" about Navajo Code Talkers during WWII.
The siblings are from Shiprock, New Mexico and are seeking extras and cast members for the film.
"Unbroken Code" is not the first film the trio has made. They have made an anti-bullying short film, focusing on suicide prevention and domestic violence. The film's title is "Spared," and it has been accepted into several film festivals — at one festival, the film won Best Anti-Bullying video.
It is one of Kody Dayish's favorite films they have completed so far, he said.
They also have a film called "The Red Hogaan," which Dayish classifies as horror, is based on Navajo folklore about Navajo Skinwalkers. It was their first feature film and is still pending acceptance into Tribeca Film Festival in New York City.
"What connects these films to me and what motivates me to do these films is the fact that all these films are focused on our Navajo people," Dayish said.
"Spared" is a good example, Dayish said. Of all the Public Service Announcements (PSA) on the internet or TV about anti-bullying, he has never seen one focused on Native Americans.
"That's why we did that and it just became a short film after people starting saying, 'What happens next?' Dayish said. "We made a three minute film and it just turned into a 15 minute film."
While "The Red Hogaan" is a horror film, Dayish said the motivation is the same.
"Again, it is just to directly portray from what I believe and what I was taught traditionally as far as our culture," he said. "A lot of films are out there that are misinterpreting our culture and I basically think what we're trying to do is set the record straight and that's why we're going to take on the Code Talker film."
In 2011, Dayish met Chester Nez, who passed away in 2014 and was the last surviving member of the original 29 Navajo Code Talkers. Dayish got to hang out at a book signing with Nez and talked with him about the idea of a movie.
"Back then it was just a conversation, but I was pretty serious about it," Dayish said. "Not serious enough to start film production right then. But the idea, and the script that we have had and the story that we're going to do has been around for several years now."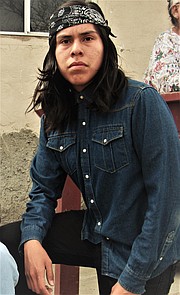 But one of the important things for Dayish was making sure he was ready to take on a film like "Unbroken Code." He feels like he is ready now. Dayish said from the beginning he wanted to make a Skinwalker film and a Code Talker film, but he didn't tell anyone until he had made other films to see if he was capable.
"As far as every film we've done so far, they have won awards at every film festival that we've submitted to," Dayish said. "We're trying out best, as far as telling the story. And the story of this one is going to be basically focused on the origin of the Navajo Code Talkers language."
Dayish said he gets asked quite often what film he can compare "Unbroken Code" to. Will it be like "Windtalkers" that starred Nicolas Cage and came out in 2002?
"I tell everyone that ours is not going to be anything like ["Windtalkers"] as far as comparing it to other films," Dayish said. "Our lead character will be Navajo and it will be based on him and his family. I think that's why it's getting a lot of publicity. I'm really glad that's happening because we really want to get as many Navajo people as possible to be in this film."
"Unbroken Code" is still in pre-production and won't begin production until the middle of February. They are in the process of scouting locations and verifying permits right now.
"We are still looking for the actors," Dayish said. "We have hundreds of people coming in but we're still wanting to give that chance to give it up for people who can speak Navajo and who want to represent these heroes."
To contact Kody Dayish Productions and inquire into casting calls visit kodydayish.com or look for them on Facebook.
Dayish emphasized the reason he and his brother and sister are making films is for the next generation to learn about their culture — even when their daily lives take them away from it — to counteract the negativity and stereotypes about reservations and Native people.
"We put that aside at times to make these films in order to put the Navajo Nation on the map in a positive way," Dayish said. "That's basically what we're doing this for. I tell people that's it's about time that there's a Native film director that is telling and making films."
Kody Dayish's message of perseverance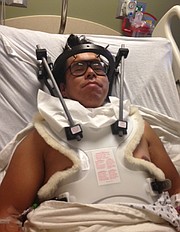 Another message for next generations is perseverance pays off. A few years ago, Dayish broke his neck and recovering from that gave him the motivation to pursue filmmaking. He was in a Halo Vest and a wheelchair for six months.
"My siblings were like, 'You can walk, you're alive.' The doctors said I should have died from the accident I was involved in. Since I'm alive, that's what keeps us going," Dayish said.
And his family played a big part in that.
"I was fortunate enough to have a strong family background," Dayish said. "I do have friends and I've witnessed how bad things can get. I'm blessed to have my parents who were strong enough to stay together and be there for us through the whole thing up to today."
Dayish said hope is another thing he wants youth to take away from what Kody Dayish Productions is doing — which includes a Navajo band called "Our Last Chants." The group is featured on i-Tunes and has released several CD's. They also play on productions for Kody Dayish Productions.
"There's so many bad things going on the reservation and we hope that through this, we hope it can be something that has a good outcome," Dayish said.
In the beginning, Dayish said making a few music videos was the goal. But after one step after another, Dayish and his siblings have come a long way.
"It seems like it is expected of us to make decent films," Dayish said. "That's what we're going to do no matter what."
For his part, Dayish said he loves filmmaking and he thinks it is going to be his career.
"When it comes down to it at the end of the day, it feels really chill just to know that we've made a difference as far as storytelling," he said.
To view part II of Spared follow this link: Spared Part II
To view part III of Spared follow this link: Spared Part III
SUBMIT FEEDBACK
Click Below to:
More like this story