Originally Published: January 9, 2018 12:50 p.m.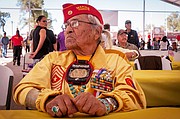 I read in the Observer that Code Talker Teddy Draper Sr. passed.
When I finished the article, I thought of a comment made by my father, decades ago. (He was a Lt. Commander USN, Atlantic and Pacific, during WWII. Coincidentally, my dad's middle name was Draper.) I'll have to approximate his words, as I never wrote or recorded them.
"Those Navajo boys, saved our butts."
Each time in my life I've encountered a Code Talker I've told them that story. I want the Code Talkers to know that men and women they never met passed on their admiration of these Navajo heroes to their children. I have passed that admiration on to my own children.
Regards,
Britt Anderson,
Eugene, Oregon