Hopi High ends fall semester with concert, prepares to kick off spring semester
Originally Published: January 9, 2018 2:45 p.m.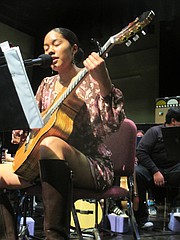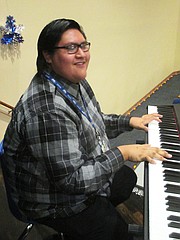 POLACCA, Ariz. — Hopi High's music program closed out the semester by giving the student body a performance in the auditorium Dec 20, with a mix of holiday and non-holiday tunes.
Hopi High music teacher Thomas Irwin said he was happy with the musicians' performance and the audience response, but said the performance had some technical difficulties. He said the guitar performances by Hailey Kardell and Stacy Charley were great, and that he was happy with everybody's performance.
"The students in the audience responded amazingly well. They did the light wave, so the kids were awesome. They were respectful, awesome and fun," he said.
Charley, a senior, said she especially liked this performance because the advanced guitar class was able to perform with the beginning band. She said usually they just perform on their own.
Toward the end of the concert, the band performed "Oye Como Va."  Charley said that was her favorite because it rocked the house. She said one way the concert would have been improved is if they had more Christmas lights.
"They should also have had more holiday songs," she said.
Charley also liked the guitar performance of "Mary Did You Know" by her friend and classmate Hailey Kardell.
"Her voice goes so low that it makes me feel warm and at home," she said.
Charley said she appreciates Irwin's leadership as her teacher.
"Sometimes I doubt myself, but he pushes us and encourages us," she said.
Ronald Lopez started the concert with his keyboard rendition of "Linus and Lucy." The beginning band played "All Grace and Thanksgiving."
SUBMIT FEEDBACK
Click Below to: