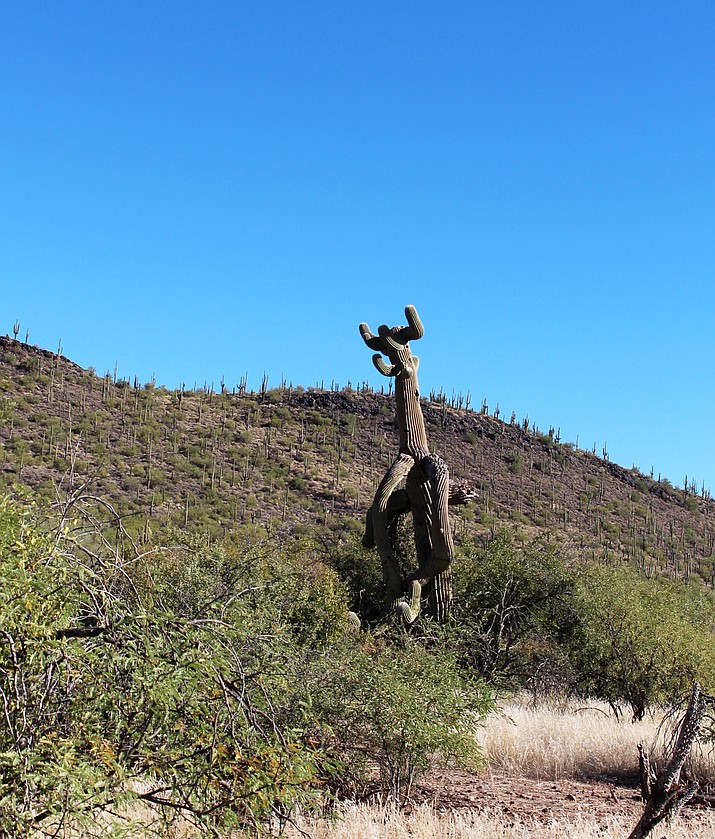 Originally Published: January 2, 2018 9:38 a.m.
APACHE JUNCTION, Ariz. — This is a great time of year for a hike in the Superstition Mountains because the weather is cooling off.
The hike entailed starting at the First Water Trail and hooking into the Boulder Creek Trail. This two trail 10-mile hike ended at Canyon Lake. Seeing motor boats racing through Canyon Lake is a welcome sight after hiking through the mostly dry trail. The lake also has Lakeshore Restaurant for the weary hikers to enjoy food and drink.
This was a one-way hike, with a car shuttle waiting at the other end to take us back to our vehicles at the trailhead where we started.
There are two sensational parts to this hike. Hikers enter Garden Valley about halfway through this hike. This is mostly a garden of saguaros including one known as the Giraffe Saguaro because it is in the shape of a giraffe.
The second sensational part is Weavers Needle. This is the best know landmark in the Superstitions and hikers have great views of Weavers Needle from Garden Valley.
This was a Sierra Club hike led by Ken McGinty. He has led 515 hikes and counting. That is only the hikes he has led; it doesn't count the other hikes he has been on. Impressive.
While there wasn't much water on this hike, there was enough in some watering holes to keep the frogs happy. Seeing frogs in November is not common in many places. After some rain comes, this trail will be even better and the frogs will be happier.
After leaving Garden Valley, another well-known landmark, Battleship Mountain comes into view.
Not far from Garden Valley, the only tough stretch of this hike occurs. It's only about a 500-foot climb, but in 85 degree heat some felt the huffing and puffing. The views are pretty good as the climb continues, but when you get to the top there is still about three miles to go before the hike ends.
This is a good place for a short rest, but there is no shade so don't rest too long in the open sun.
Most of this trail is clear and easy to follow. From the top of the climb, you can see Canyon Lake, but only a glimpse. It's a bit more than a mile before Canyon Lake comes into clear view.
After reaching what appeared to be the top, most of the rest of the hike is downhill, but there is one more short climb before the descent down to the lake truly begins.
The Superstition Mountains are part of the Superstition Wilderness Area. It is 159,757 acres meaning there are many trails, some short and some much longer. The Superstitions are known for the Lost Dutchman Gold Mine, which is why the Lost Dutchman State Park is nearby.
Apache Junction is the closest city with hotels and amenities.