Native tribes unite in prayer run to support Bears Ears National Monument
Originally Published: January 2, 2018 9:40 a.m.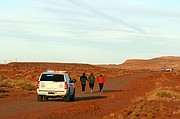 TUBA CITY, Ariz. — On Dec. 26, indigenous youth members of the Diné, Hopi, Pueblo, Apache and Ute Nations united for a 195 mile prayer run in support of Bears Ears National Monument.
A Navajo group started from Flagstaff with a morning prayer to one of the four sacred mountains and asked for strength, safe travels and encouragement as they made their way to Tuba City, where they met up with a group made up of Hopi youth.
The purpose of the run was to unify tribes in a tangible way, raise awareness and stand up for Bears Ears through prayer. On behalf of the runners and coordinators, the Navajo Nation Office of the President and Vice President asked for volunteers, donations and participation.
Items such as food, water, wood, first aid kits, tents and monetary donations were accepted. Support and encouragement throughout the run were encouraged as the group consisted of young determined and driven youth leaders.
"Our youth are our future," Navajo Nation President Russell Begaye said. "What this run shows you is the drive they have to stand up for what they believe is right. They want a better future not only for themselves but for future generations. They are willing to make the sacrifice."
Vice President Jonathan Nez joined both groups from Flagstaff and Hopi on the first day.
"I applaud our youth for putting this event together," Nez said. "They are helping bring tribes together and raise awareness about these issues. President Begaye and I fully support their dedication."
The group united to symbolize solidarity and ran 75 miles to Kayenta, where they camped out for the night. Their journey continued on to Bluff, Utah. From Bluff, the group ended the run at Nizhoni Campground.
Upon arrival, they were greeted by two roadmen. At sundown Dec. 30, the group will conduct a Native American Church (NAC) ceremony at the campground.
SUBMIT FEEDBACK
Click Below to: