Letter to the editor: The future of the Navajo Nation will be brighter after NGS and Peabody
Originally Published: February 27, 2018 11:27 a.m.
To the editor:
There is noise on and off reservation to save Navajo Generating Station and Peabody Mine, to save 800 high paying jobs and revenues. Let me remind you that Peabody lied to both the Navajo and Hopi tribes before 1969 and many times since. They lied to the workers last year and are lying to them again now, saying there is future in coal. They are pushing the Navajo Nation to renege on a promise, an agreement, all to their benefit.
As a coal company, Peabody won't face the fact that the market for its product is ending. Its executives have golden parachutes and can afford to live in that bubble. Working families — including those who work at Peabody and NGS — can't afford to back a plan that is not based in reality. We need leadership to step forward and demand better for Navajo and Hopi workers and families, and for the restoration of our land, water and air, after decades of pollution by the coal industry. If Peabody won't tell the truth, then allow me to clarify some points as to how we got here: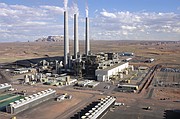 • First, the six owner/operators of NGS agreed to cease operations last summer, due to economic instability of the coal industry. The decision to cease operation was also in compliance with the original 1969 lease, which the Navajo Nation was a signatory to.
• With the concerns of the loss of revenue and jobs, the president and the speaker of the Navajo Nation Council talked the owners into agreeing to a negotiation for two additional years.

• In July 2017, with very strong support of the workers from both industries, the Navajo Nation spent months negotiating with Salt River Project to extend the operations for two more years to December 2019. That would be followed by two additional years, until 2021, for decommission, reclamation and other clean-up, after 50 years of operation.
• In December 2017, the secretary of the Interior, on behalf of the president of the United States, signed the new replacement lease firming up the retirement date for NGS. It's a done deal, just as the workers wanted, two more years of operation and two more years of decommission for a total of four years.
• In the agreement the Navajo Nation negotiated, a total of $169,118,361 revenue was secured over a period of 35 years. These payments would come in various stages beginning in 2018. Also, in the agreement, the Navajo Nation would get various assets, estimated value over $163 million. This would amount to a total of $332,118,361. Some of the assets include railroad, a lake pump, transmission lines capable of carrying 500 MW and other assets, and guaranteed rights to 1,500 acre-feet of water from Upper Colorado River and future support from SRP to acquire additional water rights from the river.
• During this entire time, with the help of the Interior, Navajo Nation and Peabody continue to search for new ownership. The dead-line for submission of a written letter of interest was Oct. 1, 2017, over five months ago. We hear there are 15 submissions, with one delegate saying there is a 'high caliber investor' in the pack, who all conveniently refuse to be known publicly, hiding from public scrutiny.
• Economists are saying there is no future in energy produced by coal compared to renewables and natural gas cost. Just last month, the Federal Regulatory Commission (appointed by Trump) opposed a proposal by the Department of Energy to support coal industries. As it stands, there is no future in coal, and there is no buyer.
• The Department of Commerce handed out $30 million to states and communities to transition away from coal, and out of that, $624,000 went to the Navajo Nation, ASU, and the Hopi Tribe to help transition away from NGS and Peabody to develop renewable sources, grow businesses, and economic development. There are no dollars available to continue coal.
• The Navajo Nation is facing one of the worst droughts since the early 1900s, due to climate change. The extractive industries within and surrounding the Navajo land are all major contributors, and NGS is the dirtiest of all power plants in the Southwest. Yet, these industries have been using huge amounts of water, while polluting and wasting our land and air.
There are those telling our people that the Nation will be devastated by the closing of NGS and Peabody. I do not believe it. Just last month our three Branch Chiefs signed a Proclamation recognizing 150 years since the Treaty of 1868. The Proclamation talks about the many hardships our people have experienced throughout our history, which taught us resiliency and perseverance. Those same people are failing to tell us all of the above, including the Navajo Permanent Trust Fund, which is now over $3 billion. Then there are the Sihasin Funds to relieve historic hardships and just this month it was amended to meet the Nation's economic needs. They are also failing to tell us what's gained through the Replacement Lease, all the money, all the assets and water rights will be lost if a new owner is found.
I would much rather re-gain our water rights soon after 2019, rather than later, at an uncertain time. I strongly believe we have full rights to all of the 50,000 AF of Upper Colorado River and all of the N-aquifers of Black Mesa. Water is everything, water is life.
I would much rather have the Navajo Nation leaderships be honest with all of us — it is inevitable that the coal industry will disappear and move forward with developing renewables and diversifying economic development. Our Navajo leadership needs to seize the opportunity, but needs to start planning for a transition NOW.
The future of Dine' will be much, much brighter after Navajo Generating Station and Peabody.
Percy Deal, Big Mountain, Navajo Nation
SUBMIT FEEDBACK
Click Below to: