Winslow welcomes new library director
Originally Published: February 20, 2018 10:49 a.m.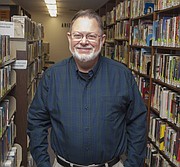 On Feb. 13, Galen Worthington, the new director at Winslow Library was introduced at the Winslow city council meeting.
Where were you before you came to Winslow?
I was the assistant director and public services manager for the Sedona Library. I was there about nineteen months and before that I was the director of library at a small Kansas town located between Topeka and Lawrence. It was an established library but with one million dollars newly endowed to spend. I was the first credentialed librarian there and organized it.
I was born in Lawrence Kansas and grew up on a farm. My father was a veteran of WWII and was very active in community service and modern farming techniques, he was a large influence on my attitudes. I worked at a couple newspapers and later got a geology degree and worked for the State of Kansas. Geology and library science are essentially about information science. At that time I decided I preferred working with people rather objects.
As technology changes and we are in the middle of very rapid changes, how do you see the environment of the library changing and integrating new technology?
The libraries themselves have to change with the new media as it becomes available. Libraries have to reinvent themselves a bit. With new media individuals now can have great home experiences. But there are a large number of people who also like the like the big screen experience with a couple hundred spectators sharing the movie, thus as we go forward the library is still a place where people can come together and experience a sense of community.

Libraries are egalitarian institutions where it doesn't matter who you are, it doesn't matter what your economic status is – we are relevant to all walks of life. There are a number new technologies, for example audio books which are available here. We also have quite a few computers and internet connections available. We are here to serve a variety of diverse needs.



SUBMIT FEEDBACK
Click Below to:
More like this story