Tuba City's Tristan Antonio receives full ride to Bacone College
Originally Published: February 20, 2018 11:01 a.m.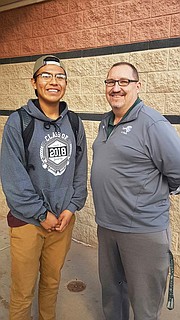 TUBA CITY, Ariz. — Tristan Antonio, 18, signed a full ride scholarship with Bacone College to run cross country starting this fall.
Antonio, a senior at Tuba City High School (TCHS), is the son of Sonya Yazzie and the late Harvey Butler.
Both of Antonio's parents went to college, but he is the first in his family to get a sports scholarship at the college level.

His mother received her bachelor's degree in Early Childhood Development, and then at age 46, she went back to get her masters.

Antonio's mother has been the primary source of encouragement and support for Antonio after his father passed away over a year ago. She told Tristan, 'You have the career of a champion in front of you' when he got the offer from Bacone.
Bacone College, located in Muskogee, Oklahoma, was established in 1880 by professor Alman C. Bacone, who was a missionary. He started the school at the Cherokee Baptist Mission in Tahlequah Indian Territory with just three students.
By the end of the first year, Bacone had 56 American Indian students and three full-time faculty members.
Then, in 1885, an appeal was made to the Creek Tribal Council for 160 acres of land in Muskogee for a formal school. At that time, the school was called "Indian University" and was later changed to Bacone College after its original founder.
Since that time, the campus has accepted not only Native students, but students of all ethnicities and walks of life, providing a cross cultural campus.
Antonio will major in Health and Physical Education at Bacone.
He credits Tuba City High for steady preparation for his college experience, citing two coaches, Thomas Hatathlie and Arvis Myron, for his cross country running prep and current Tuba City High School Principal Rayelynn McCabe, who was a longtime favorite TCHS math teacher before becoming principal.
"Both my coaches and Ms. McCabe have shown me so much respect and guidance all through high school," Antonio said. "They all showed me daily how to succeed as an athlete and also a person of character. They told me that it's important to get on with my life, be successful in school but also to come back and help my own community and family too."
Antonio added that both his coaches and McCabe highlighted his ability to run and how natural it was for him.
"But that my running should also tell me about how life performance with dignity is extremely important for me as a person," Antonio said. "I'm so grateful for my mom, she was in the Navy before she went on to get her degrees and she always says to me….if I can do it…you can too. "
Antonio also credits his brother, former TCHS alum and award winning cross country runner, Ryan Yazzie.
"I want to excel like my brother Ryan," he said, "I also think that running helps me get out of my head…and not dwell on some of the tough economic situations that I see many people suffer from here on the Reservation. It helps clear my mind and gets me into a more positive mind-set. I hope to use that clear thinking and problem solving to help my own people when I'm done with college."
Antonio says he is looking forward to an independent life at college and said that even though his father has passed, he knows that his dad is looking after him and supporting him with his new educational and sports venture.
SUBMIT FEEDBACK
Click Below to: