Monument Valley's Lady Mustangs defeat Holbrook, 59-49
Anton Wero, for the Navajo-Hopi Observer
Originally Published: February 20, 2018 10:29 a.m.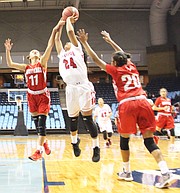 GANADO, Ariz. — "(It's) gonna be a competitive game, they are a very good team," said Holbrook Lady Roadrunner head coach Grey Perkins, "We'll probably neutralize each other — we hopefully have a stronger post game, (which) should be the difference."
Holbrook scored first from beyond the three point arc, which would be their only points in the first quarter. Monument Valley Lady Mustangs then went on a 19 – 0 run (and) held on to a 19 – 3, advantage going into the second quarter.
The Lady Roadrunners rallied to tie the game at 22, all with a minute left in the first half. The Lady Mustangs regained the lead for good after two buckets and led 26 – 22 at the half.
Coming out of the locker room, after intermission, the Lady Mustangs applied a swarming full court defense, which caused numerous turnovers that lead to layups, early in the third quarter. The Lady Roadrunners were only able to hit a single three point basket, while the Lady Mustangs scored 15 points in the third frame and led 41 to 25, going into the final frame.
With 20 seconds gone in the fourth quarter, the Lady Mustangs' Jazlyn Lane hit a three pointer that gave the biggest lead to Monument Valley, 44 – 25. The Mustangs held on to a double digit lead midway through the final quarter. A three pointer by Holbrook's Elena Smith gave life to the Roadrunners and brought them within reach, 51 – 41. Both teams scored eight points to close out the game, 59-49, in Monument Valley's favor.
Following that win, the Lady Mustangs faced the Valley Christian Lady Trojans Feb. 19.
"Early on we wanted more, toward the end they didn't want to be denied," said Lady Mustangs coach, Jason Franklin.
Tayla Nez led the Lady Mustangs with a game high, 14 points and Jazlyn Lane added 12 points.
SUBMIT FEEDBACK
Click Below to: