Candlelight vigil remembers Nicole Joe and other missing and murdered Native women
Originally Published: February 20, 2018 10:42 a.m.
About 35 people braved the sleet to gather in Heritage Square in Flagstaff Feb. 14 to call attention to Nicole Joe's death and the fight for justice for missing and murdered indigenous women.
Vaughn Seumptewa, was charged with aggravated assault after he allegedly beat Nicole and left her outside in the cold for hours. Nicole died on Christmas Day in 2017. She was 40 years old.
It is not an uncommon story for Native women who suffer murder rates more than 10 times the national average and who are 2.5 times more likely to experience sexual assault crimes compared to all other races. One in three Native women report having been raped during her lifetime, according to the U.S. Department of Justice Full Report of the Prevalence, Incidence and Consequences of Violence Against Women.
Sarafina Joe, Nicole's older sister, said the community must be aware that Native sisters are being ignored and unsheltered relatives are being mistreated and they need to be heard.
"My sister dealt with that," Sarafina said. "In my eyes, my sister is a survivor. She kept trying to turn her life around and he took that. I want justice for her. I feel like my sister is guiding me through this."
And there were many fun times, Sarafina said, which makes the loss harder.
"My sister and I connected in so many ways," Sarafina said. "Not having her here, I feel so alone."
Sarafina does not shy away from acknowledging that Nicole struggled with alcoholism or that early abuse contributed to that. The family moved around a lot when they were younger and alcoholism changed her sister.
"She had a lot of struggles in life and that started off at a very young age," Safafina said. "She lived with those demons… but, she never gave up even though she dwelled on the past and what had happened as a young child. It haunted her throughout her whole life. She had a really hard time living with that and, therefore, I was pretty much there for her all the time."
Sarafina said that is why Nicole turned to alcohol, an addiction she struggled with off and on for the past few years.
"She always dusted off and wanted to try again," Sarafina said. "She loved her kids so much. I think they were the reason she kept her faith and hope alive. She wanted to better herself."
Nicole left behind two children — her daughter, Kyra, 12, and her son Ayden, 7.
Nicole was a great cook and had a great sense of humor. Sarafina said people who got to know her remember her smile and that her sister was resilient regardless of what happened to her.
"She tried really hard to move forward," Sarafina said. "She tried really hard to better herself. I looked up to her because she had that fearless attitude."
While Sarafina recalls always being concerned with how others saw her and what they thought, she said Nicole was different.
"For her it wasn't like that at all," Sarafina said. "She did what she wanted. She didn't really care what others thought. But her kids were her world."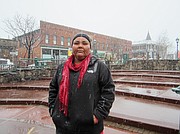 Nicole lived with Sarafina and their mother off and on and she was seeking help for her addiction.
"She had just gotten out of the rehabilitation center right before this happened to her," Sarafina said. "She had relapsed probably a few days before that happened."
And despite the setbacks, Nicole tried to take good care of herself and take medication prescribed because of her alcoholism, despite the relapses.
"She was a survivor," Sarafina said. "She fought all the way to the end."
Sarafina said Seumptewa did admit to beating Nicole and knocking her unconscious and leaving her outside the apartment. Sarafina said Seumptewa was initially charged with second degree homicide.
"But because of lack of solid evidence the charges were dropped to aggravated assault," Sarafina said.
The circumstances of her sister's death haunt Sarafina.
"I try not to think about that part because it is very upsetting just imaging what she went through while he was doing that to her," Sarafina said. "And leaving her in the apartment for 16 hours and not bothering to call the paramedics on her. He just waited. And he waited until she stopped breathing and then that's when they decided to call the paramedics. I don't know how much my sister had suffered."
Sarafina said the family is still waiting on the results of the autopsy. The family owes the funeral home for her funeral expenses. While some of the cost may be paid by a victim's service, it depends on the cause of death from the autopsy.
Nicole Joe was not alone in her experiences. According to the Centers for Disease Control and Prevention, murder is the third leading cause of death among 10-24 year-olds and the fifth leasing cause of death for American Indian and Alaska Native women between 25 and 34 years of age.
A 2010 Department of Justice study found that of over 2,000 women surveyed, 84 percent of Native American and Alaskan Native women have experienced violence, 56 percent have experienced sexual violence and over 90 percent have experienced violence at the hands of a non-tribal member. (https://www.ncjrs.gov/pdffiles1/nij/249736.pdf).
"A lot of Native American women, they're trapped like that," Sarafina said. "It's really sad. My sister was somewhat like that. I see it all the time with a lot of Native American women. I tell them, 'Do it all on your own. Figure it out on your own to take care of you.' I don't know what causes them to depend on a man."
And finding what to say at the vigil was hard for Sarafina, despite the good memories of her sister. It hasn't even been two months since her sister died.
"All I know is hurt," she said. "All I know is the struggle."
More like this story
SUBMIT FEEDBACK
Click Below to: