Winter Solstice Cultural Symposium held at Tuba City School District
"Naasgoo Nihizaaad doo Nikee'o'ool'jjl bee Aniilzee doo"
Originally Published: February 13, 2018 10:15 a.m.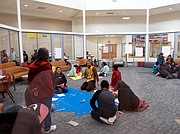 TUBA CITY, Ariz. — An entire day in the winter school calendar at Tuba City School District is devoted to honoring and learning ways to implement respect, tribal culture, history and tribal language using practical teaching methods. These lessons help implement traditional Native teachings into everyday academic curriculum.
This year's cultural theme "Naasgoo Nihizaaad doo Nihee'o'ool'jjl bee Aniilzee doo," which roughly translates to "We nurture our future generation through our language and culture."
The day-long symposium conference for staff members and parents was hosted this year at the new Tuba City Elementary School building in uptown Tuba City.
The entire day was filled with presentations from state and local reservation cultural practitioners and teacher presenters.
Symposium topics are selected to help both Hopi and Navajo staff who work alongside Filipino teachers and teachers from other tribes, as well as non-Native staff, personnel to bring the best possible cross cultural enrichment education experience for their students.
Miss Navajo 2018 Crystall Littleben was the guest speaker at this year's symposium and served as a presenter for Navajo finger weaving stress buster games in the four sessions offered for the day.
After the morning invocation, Shyla Manygoats, student council president for Tuba City Elementary, gave the welcome address.

Two break-out sessions were held in the morning and two in the afternoon for staff members and visiting parents.
Sessions included Susie Robbins with a session on Navajo language, and another special three member team presentation was given by Myleene Ruiz, Jasmin Taquiso and Imelda Torres San Jose on Filipino foods, beliefs and traditions. Kristine Mortiz and Nellie Calayag presented on Filipino history and tourism. Vilma Morala and Clarence Pesodas along with Maria Ferrer presented on Filipino folk dances, including demonstrations. An entire exhibit of Filipino men and women's dance clothing was also shared.
Arvis Myron gave an introduction to Hopilavayi Writing and Fred Johnson spoke about "Water is Life." He gave examples of how reservation surface water is impacted by human activity, recreation, agriculture and construction activity. Violet Tso, Ella Bedonie gave an interactive demonstration on winter stick games.
Leila McCabe spoke to the meaning of "Ke'e', plus the roots of an individual relating to their Navajo tribal clan membership. Royd Lee led a Navajo class room exercise and Susie Store gave a presentation on So'Baa Hane'. Denise Masayesva and Esther Masayesva gave a presentation on how Hopi clan and family relationships define roles and responsibilities in Hopi ceremonies and traditions, such as Hopi baby namings, Hopi weddings and Hopi social dances.
Charlotte James talked about growing up in the Navajo traditional way and clanship. Lyle Harvey spoke on the fundamentals of Dine' education and child development. Barbara Begay presented holistic healing purposes and practices, explaining how Navajo diagnostic work to determine 'what type of ceremony' to heal a person is defined. Valencia Edgewater gave a presentation on immersion methods to teach basic primary concepts of colors, numbers and spatial awareness.
The day was closed by Tuba City High School Hopi language teacher Arvis Myron and a benediction was given by current 2018 Miss Tuba City Junior High Mikyla Johnson.
SUBMIT FEEDBACK
Click Below to:
More like this story