STAR School creates solutions for staying cool in off-grid housing
Innovative students at STAR School design low-cost evaporative cooler, win $25,000 from Samsung's Solve for Tomorrow project
Originally Published: February 13, 2018 9:57 a.m.
LEUPP, Ariz. — STAR School students recently won $25,000 from Samsung for their solution to cooling needs on the reservation by designing an evaporative cooler bucket that is low-cost and can be used on and off the grid.
Eighth grade science and service project teacher Kylie Morris entered the project in Samsung's Solve for Tomorrow project, which is a STEM (science, technology, engineering and mathematics) project in which students come up with a STEM solution for a problem in their community.
"We came up with an idea that was simple enough and met a real need in the community," said Founder of STAR School, Mark Sorensen. "And there's science involved. It is about lowering the need for power and what it takes to design something that only runs on 20 watts."
The low wattage is important because many people, especially elders, on the Navajo Nation do not have access to electricity, or, if they do, the cost is too high to have a conventional air conditioner.
"It's tough," Sorensen said. "Every $100 matters. If you've got an air conditioner, your electric bill is going to go up $100."
The cooler the kids designed can work for people on the grid or off the grid using a small solar panel. It is low cost, around $50 for all the parts that include two five gallon buckets, a pump, fan, tubing and evaporative cooling batting. All inexpensive materials that are easily accessible. The entire apparatus is small and can fit into the corner of room and is quieter than conventional air conditioners.
Robert McCann, IT person for STAR School, quotes a Canadian handyman on YouTube who says the best solutions come from using what's lying around.
"Like the kid who does the scrapyard windmill generator," McCann said. "You use what's lying around. That's where your creative activity really comes in. It is easier to digest. Science and engineering is hard enough so do just be able to be like, 'I know what a five gallon bucket looks like and how to use it is important."
Since STAR School is a STEM (science, technology, engineering and mathematics) school, the science is just as important as anything else. In fact, all graduating eighth graders at STAR School have to participate in a service project that has STEM aspects to it.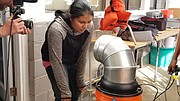 "This is a prime example of when that works really well," Sorensen said. "It is taking STEM skills and applying it to a problem in the community."
So far, the coolers have gone to grandmothers of the students working on the project.
"I gave it to my grandma who lives on the reservation because during the summer she's home and there's no air conditioner and they have to open the windows," said student Natasha Garcia.
She added that her grandmother doesn't use a conventional air conditioner because it costs too much.
That experience is shared by the other students' grandmothers.
"I gave one to my grandma," said Alizé Stos. "She lives on the reservation, she's off-grid. She uses a generator. Over there it gets really hot. She's hoping to put it in her Hogan that she's now moving into."
Gracelyn Nez said her family tried to buy a big air conditioner for grandmother but it was too expensive to start and took up too much space in the Hogan. Her grandmother lives in Bird Springs.
"I decided to give her one because she also lives off-grid," Gracelyn said. "All they have to do is haul their own water, they have electricity."
One of the engineers, Kristin Johnson, said she thinks the coolers are pretty cool. She lives off-grid as well and might make one for herself in the summer.
"It doesn't use all that much energy, most of the items are low cost," Kristen said. "Usual AC's cost in the hundreds, this is only $50. It is pretty simple."
Also the students are working on a list of instructions to make the project open source, so everyone can see how to make it with pictures and instructions.
The students involved in outreach are: Nez (Bird Springs), Alizé Stos (Leupp), Garcia (Flagstaff). Engineers are: Ty Laughter (Leupp), Johnson (Bird Springs) and Syris Stayne (Leupp). Savannah Store (Bird Springs) is in charge of video production. The kids also work with Mallory Schaefer, who is an AmeriCorps VISTA member.
A place based school
STAR School emphasizes self-sustainability and that way of thinking transmits not only to the students but to the staff as well. Sorensen explained the staff really gets that the school is place-based, meaning they really look at the place they are living in and look at what is needed that they can do in that place.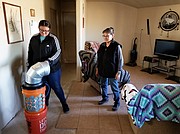 "Our staff gets it, too," Sorensen said. "All of us here are off-grid. You start paying attention. It is one thing to live on the grid and to be working on solar things. If you live with it, you actually realize oh, my power won't come on if it's a cloudy day and I run the laundry."
STAR School is predominantly Native, with a few exceptions and Sorensen wants the kids, especially the Native kids, to realize they can solve problems.
"We can do it," he said. "You don't have to wait for the government, you don't have to wait because the government may never solve your problem. I mean any government — federal, state, tribal. To get off that idea that we're just screwed unless somebody else solves this for us."
Sorensen this is particularly true of kids who are in middle and high school.
"To have kids get the feeling that they are doing something and they can make a difference with their grandma's, that to me is huge," he said.
Another advantage is bringing generations together. The kids went out to visit the grandmothers who were receiving the coolers and Sorensen said the experience was a good one.
"Pauline (Butler, community happiness coordinator), took the kids out, was saying how the grandmas were so delighted," Sorensen said. "My own feeling is probably the grandmas were just as delighted or even more delighted that her granddaughter who was doing this as it was the cooling unit itself. The granddaughter is doing something cool."
The cooler bucket won Samsung's prize at the state level and the $25,000 goes toward technology for the school, not for the evaporative cooler buckets. The students are waiting to hear in March if they have won one of the 10 national finalist prizes from Samsung.
SUBMIT FEEDBACK
Click Below to:
More like this story