Hopi High students visit Phoenix colleges and perform with blues bands
Originally Published: February 13, 2018 10:06 a.m.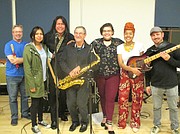 PHOENIX, Ariz. — Three Hopi High media students visited two community colleges, the Central Arizona Project (CAP) headquarters and performed with two blues bands in Phoenix.
Hopi High video students Stacy Charlie, Amber Labahe and Hailey Kardell visited Scottsdale Community College and Mesa Community College to learn about their media and music programs.
Kardell, a senior, said both community college campuses were cool.
"The community college tours were really helpful to help me see what other options I have as a Native American wanting to pursue a college education," she said.
Labahe, a junior, said Scottsdale Community College offers great music and media courses. She liked the Mesa Community College campus better because the buildings were more creative and the journalism course there seemed promising, especially when they said students get paid for writing for the college newspaper.
"This trip taught me to prepare for what's coming," she said about her future college plans. "The information we were given at the colleges was helpful."
Charlie, a senior, said the film program at Scottsdale Community College was impressive.
"We took a tour with a film class and we were able to see where scenes were shot. We got to go into the cage. This is where a great amount of equipment was stored," she said.
Charlie said Mesa Community College (MCC) had a welcoming feel to it.
"The campus was beautiful and the people were incredibly welcoming. I was also amazed to learn that you could get a Bachelor's in music," she said. "I was confused whether or not to major in music. I was reassured by a professor at MCC that it was okay to not be a full time musician."
She learned that students with other majors could take music classes.
Charlie said the trip opened her eyes to the opportunities that are available to students.
"You don't have to know exactly what you want to do. You can take your time testing things out," she said.
Visit to Central Arizona Project HQ
Phil Fortnum, along with Candace Hamana, tribal relations and strategic initiative analyst for Central Arizona Project, led the Hopi High students through a video tour of CAP from their headquarters in Phoenix. CAP brings water from the Colorado River to serve 5.5 million customers in Arizona, including several tribes and many farmers.
Charlie said it was interesting to learn where the water sources come from and how they come to Arizona through the canals.
Students interact with Phoenix blues bands
Kardell and Charlie performed with two blues bands at the Phoenix Indian Center. They performed with Bluesman Mike and the Blues Review Band and later that night with the Sir Harrison Band.
Kardell said Bluesman Mike and the Blues Review Band were outstanding.
"I never really had the opportunity to listen to a blues band and be able to meet them and see what they were like. You can tell they love what they do and their energy could be felt while they are playing," she said. "Bluesman Mike was inspirational. He told me to not stop what I was doing, and I really don't think I will."
Kardell said the Sir Harrison Band was great and she hopes to become as professional as they are.
"Performing with them was a great experience that I hopefully will do again," she said.
Charlie said she liked the vibe of The Blues Review Band and said the Sir Harrison Band was amazing.
"(The Blues Review Band) know how to put on a show and connect with the audience," she said. "The (Sir Harrison Band) had an upbeat jazz feel to them and it felt like we got to travel back in time. It was incredible," she said.
Charlie said when she first started singing along with the blues bands that it was intimidating because they were on stage and the bands knew what they were doing.
"But they were so welcoming that once you performed with them you felt part of something bigger," she said. "Performing with the band also made me see how much I enjoy music as a hobby. I don't want it to ever feel like a job. I want to have fun with it."
Charlie said Sugar Bear, one of the guitarists with the Blues Review Band, made an impact on her.
"He knows how to have fun. He challenged me to take a risk with music and own everything you do," she said. "Performing 'Give me a Reason' by Tracy Chapman with the band, Hailey and I really let loose and felt the music. I entered a weird realm where everything around me left. In that moment, it was just me and the music."
Labahe videotaped the performance of Kardell and Charlie with the two blues bands. She said Bluesman Mike and the Blues Review Band were great because their music was upbeat, soulful and made the three students feel at home.
She said Sir Harrison Band was also great because Harrison's guitar skills were astounding.
"He inspired me to become a great musician," she said.
Labahe said watching Charlie and Kardell perform with the two bands was great.
"I could only think about the photos and footage I was getting. It made me happy to see they were having fun, especially when they improvised," she said.
Labahe said Bluesman Mike and Sugar Bear motivated her to become someone great.
"Just seeing them perform gave me a warm comfort of hope. I've always wanted to play in front of people I never knew and when I saw them playing like that I knew what I was headed for," she said.
Labahe said while she was on the way home that the colleges and the bands played over and over in her head.
"That gave me joy," she said.
SUBMIT FEEDBACK
Click Below to:
More like this story