Reclaiming truths about Native Americans
Study finds limited personal experience and negative narratives cement Native stereotypes
Originally Published: August 28, 2018 12:16 p.m.
FLAGSTAFF, Ariz. — When you think of Native Americans, what thoughts or images come to mind?
A recent report by Reclaiming Native Truth sheds light on assumptions made about Native Americans, points out the negative challenges of that narrative and sheds light on ways forward "to achieve equity, inclusion and policy changes that will improve the lives of Native families and communities."
Document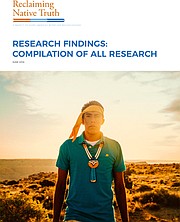 "For the first time ever, we know what different groups of Americans — across socioeconomic, racial, geographic, gender and generational cohorts — think (and don't know) about Native Americans and Native issues," the report said. "We have learned how biases keep contemporary Native Americans invisible and/or affixed to the past and are holding back Native Americans from achieving political, social equality, as well as accurate and respectful presentation. We also learned what types of messages will begin to shift public perception."
The report found contemporary Native Americans are, for the most part, invisible in the United States; that limited personal experience and pervasive negative narratives about Native Americans by others cement stereotypes; that Americans blend hundreds of tribes who have different traditions and cultures into one pot; that tribes' sovereignty is widely misunderstood; that people who live near or work in Indian country hold more bias toward Native Americans and people maintain simultaneously conflicting narratives about Native Americans.
On the positive side, the report shows that people want a more accurate education about Native Americans and that presenting an accurate history about Native Americans opens up an honest conversation about their current reality.
Michael Roberts is president and CEO of First Nations Development Institute, which has been a leader in trying to change perceptions of Indian country. Roberts is also the co-leader of the entire Reclaiming Native Truth project. First Nations got involved because they have been doing work that studies perceptions of Native Americans and have been a long-term partner to the Kellogg Foundation.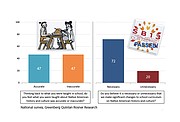 While some of the report's findings were not surprising, Roberts said they knew going in that it would not be okay to spend a couple of million dollars finding out what everyone already knew were the assumptions people had about Native Americans.
"At the same time, I think if you talk to any Indian or Indian organization, they can tell you 17 or 20 myths that everybody believes about us, that we're always having to fight against these silly narratives or myths," Roberts said. "But what we didn't know before this study was what was the core belief people have about Indians. As long as we were addressing those myths, we were really treating the symptoms of the disease and not the disease itself. We had no idea what the core disease was."
While the report confirmed a lot of what they already knew, Roberts said the confirmation of some people's core beliefs was important to understand so they could figure out ways to change those perceptions.
But even with the confirmation, Roberts said there were some startling findings and some a-ha moments.
"[One was] the fact that people hold conflicting narratives about Indians," Roberts said.
On the one hand, people, especially those who live in close proximity to reservations, see the destitute poverty, drug and alcohol addiction — they believe Native Americans have no hope, have no strong core values, they don't have any self-esteem — while, on the other hand, and at the same time, those same people admire Indian country for their resilience and their strong spirituality, they see the value of Native Americans as spiritual people who are in touch with and who are stewards of the Earth.
"These are really conflicting kinds of beliefs to hold in one person," Roberts said. "Those are really interesting things to have to wrestle with as we're trying to talk to people, knowing that they hold these conflicting narratives."
Roberts said another surprise from the report was that 72 percent of people thought their education about Native Americans had let them down and there needed to be a greater encompassing of Indian history and Indian genocide in their history and K-12 learning.
"That's a big a-ha," Roberts said. "That's a number you can work with. That kind of belief that people believe they have been cheated because they didn't know. That's a good place for someone to start some new messaging, especially for folks like Kellogg and other folks in the foundation world who understand and are already committed to investing in education and curriculum change."
While there were many positives in the report, Robert cites one more as a key to moving forward with positive narratives that can change people's minds — a brief history of what really happened to Native Americans and some values that they hold and how those values are held in common with other people.
"I think that whole idea of sequencing and positive, affirmative frame is really important because so much of Indian country has been identified by others mostly in a very negative frame, without much context," Roberts said. "We even tested that in the study and we saw some demonstrated changes when we used those kinds of sequencing and positive frame than when we didn't."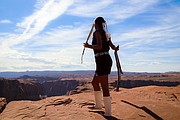 Another core belief that came up in the report was that people do not recognize any differences between tribes, even though there are 573 federally recognized tribes in the United States, more who are not officially recognized. All of those tribes have distinct languages and cultures.
"We have to thank Hollywood for this one, for the homogeneity of Indian country," Roberts said. "And it really is the Sioux Indians portrayed in Hollywood is what we want to believe."
Roberts says as a parent he has to deal with that by going to his children's schools and telling them that they will not be coming home with paper headdresses at Thanksgiving.
"One, because it is racist as s*," he said. "But two, because it really is not the people who the pilgrims met when they were over on Plymouth Rock. That nuance is really lost on people."
Dr. Stephanie Fryberg has done extensive research on how using Indian mascots affects Native youth and her surveys in the report affirmed what she and others have found. The report found that white people feel more happy about their whiteness when they use an Indian mascot.
"It has more to do with that than their consciousness of what it might do to Indians. It makes them feel better about who they are," Roberts said. "The total disregard for the scientific data about what it does to the psychology of Indian youth is not only lost to them but lost to the general public."
Roberts said two of the most exciting things to come out of the report is the messaging guidelines for Native Americans and Native American organizations to be able to put into place a toolkit to work on changing the broader narratives but also the incremental work that can be done locally, regionally and nationally.
"We're an organization that really believes in leaving behind strong tools for change," Roberts said. "I think that messaging guideline was just fantastic."
Along with that, Roberts said it is fun to create the accompanying guidelines for allies in Indian country.
"There's a lot of people who would like to help us and with such a small population, we're not going to flip this on our own, with the visibility we own," he said. "But being able to not only give them the tools and tell them that we value them as allies and we want their help and here's how you can help us in meaningful ways. Both of those pieces were such incredible opportunities for us and will have lasting value."
The report is available at https://www.reclaimingnativetruth.com/wp-content/uploads/2018/06/FullFindingsReport-screen.pdf. More information about Reclaiming Native Truth is available at www.reclaimingnativetruth.com.
More like this story
SUBMIT FEEDBACK
Click Below to: