Navajo Council recognizes outgoing BIA Navajo Regional Director Sharon Pinto
Originally Published: August 28, 2018 9:51 a.m.
WINDOW ROCK, Ariz. – The Navajo Nation Council gathered in council chambers Aug. 16 to honor and recognize Sharon Pinto, who left her position as the Bureau of Indian Affairs Navajo Regional director Aug. 17.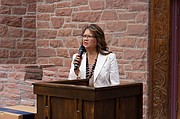 Pinto was appointed to the position in October 2011, after serving as the deputy director for several years. The U.S. Department of the Interior recently reassigned Pinto to serve as the deputy director for the Bureau of Indian Education.
During the ceremony, several Council members expressed their appreciation to Pinto for her distinguished service and for helping many Navajo people and communities. 
Speaker LoRenzo Bates (Nenahnezad, Newcomb, San Juan, Tiis Tsoh Sikaad, Tse'Daa'Kaan, Upper Fruitland) presented Pinto with an appreciation plaque, on behalf of the Navajo Nation Council. During the opening remarks, Bates also commended Pinto's service and thanked her for her assistance with many issues including the development of the Former Bennett Freeze Area, Federal Land Buy Back Program, Navajo Generating Station, land issues and many others. 
Council Delegate Leonard Tsosie (Baca/Prewitt, Casamero Lake, Counselor, Littlewater, Ojo Encino, Pueblo Pintado, Torreon, Whitehorse Lake) said Pinto often went above and beyond to help work through federal policies and requirements for the benefit of thousands of Navajo families and communities. 
"Here is an individual who understands Navajo and our people, and someone who practices true self-determination and trust responsibility," Tsosie said. "It is wrong for the United States government to do what they're doing by reassigning her." 
On behalf of the Navajo Nation Council, Council Delegate Seth Damon (Bááháálí, Chichiltah, Manuelito, Tsé Lichíí', Rock Springs, Tsayatoh) presented a shawl to Pinto and expressed his gratitude and well wishes.
"You have been a blessing to the Navajo people, and I wish you and your family the best. I will continue fighting to bring you back to the Navajo BIA office," Damon said.
Pinto was joined by her family at the ceremony, and offered her appreciation to the Council, her staff members and her children for their support. During her remarks, she attributed much of her success to the teachings of her grandparents who helped raise her as a child and praised her staff members for their dedication and hard work over the years. 
Pinto will assume her new position as the deputy director for the Bureau of Indian Education in the coming weeks. 
Information provided by the Office of the Speaker
SUBMIT FEEDBACK
Click Below to:
More like this story