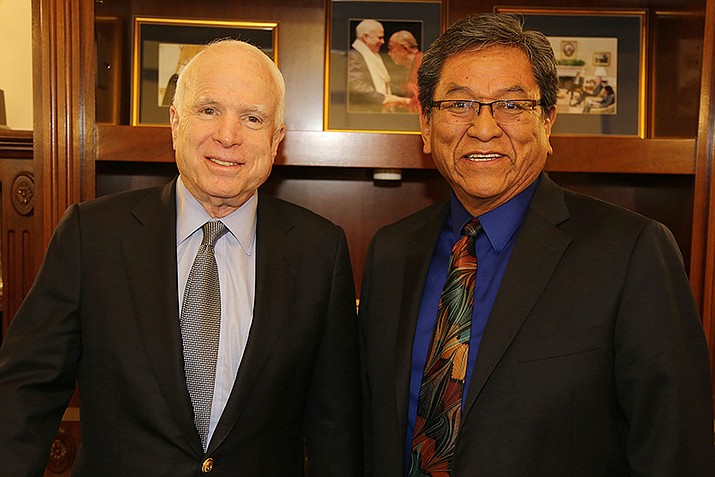 Originally Published: August 28, 2018 9:55 a.m.
WINDOW ROCK, Ariz. —Navajo Nation President Russell Begaye and Speaker LoRenzo Bates (Nenahnezad, Newcomb, San Juan, Tiis Tsoh Sikaad, Tse'Daa'Kaan, Upper Fruitland) extended their condolences to the family of U.S. Sen. John McCain, the Republican lawmaker from Arizona who died Aug. 25 at age 81.
McCain served Arizona — and much of the Navajo Nation — in the Senate for six terms (since 1987), including two stints as chairman of the Senate Indian Affairs Committee. He also served Arizona's 1st congressional district as a member of the U.S. House of Representatives for one term, from 1983 to 1987.
"Sen. McCain sometimes had a rocky relationship with the Navajo Nation, but he was always willing to listen," President Begaye said. "We didn't always see eye to eye, but we maintained a good relationship. We had each other's cell phone numbers and he called me to talk about budgeting, education and the Office of Navajo and Hopi Relocation. As a veteran himself, he was always willing to do something for other veterans."
McCain was known as a naval fighter in Vietnam who was held as a prisoner of war for five years. He twice ran for U.S. President, winning the Republican nomination in 2008.
Speaker Bates recalled Senator McCain as a strong, humble, and hard working person who was always willing to discuss issues and work toward resolving problems for all tribes. Senator McCain was also a great admirer and supporter of the Navajo Code Talkers. In 2015, Senator McCain visited the capital of the Navajo Nation on Navajo Code Talker Day, and spoke in honor and recognition of the Navajo Code Talkers and their families.   
"We admire his strength and resilience in serving our country until his final days. The Navajo Nation Council will continue to remember the McCain family in our thoughts and prayers and we will always be grateful for Senator McCain's honorable service to the Navajo people and our country," stated Speaker Bates.
McCain was diagnosed with a malignant brain tumor in July 2017. In a statement released Aug. 24, McCain's family announced that he would end radiation and chemotherapy treatments. He died at 4:28 p.m. Aug. 25 at his home in Arizona.
"He will be missed," President Begaye said. "This is a critical time for the Navajo Nation and for Indian Country, and we need someone to fill this position who is willing to work with the Navajo Nation and all tribes."
Senator Jeff Flake (R-Ariz.) also remembered John McCain in a statement Aug. 25.
"Words cannot express the sorrow I feel at John McCain's passing," he said. "The world has lost a hero and a statesman. Cindy and the McCain family have lost a loving husband and father. I have lost a wonderful friend."