Honoring Navajo Code Talkers
Navajo Nation and U.S. recognize contribution and sacrifice of Navajo Code Talkers Aug. 14 in Window Rock
Originally Published: August 21, 2018 11:51 a.m.
WINDOW ROCK, Ariz. — Leaders and citizens of the Navajo Nation, and the United States, recognized Aug. 14 as Navajo Code Talkers Day in honor of the contribution and sacrifice of the warriors who developed an unbreakable code to bring an end to World War II.
"The freedom we enjoy is connected to the Navajo Code Talkers," said Navajo Nation President Russell Begaye. "On the front lines of some of history's bloodiest battles, these men were using our language to protect American soldiers. Our language is powerful. It is strong and sacred."
"In a hundred years, we will still be speaking Diné bizaad," President Begaye continued. "In five hundred years, we will still be speaking Diné bizaad."
The Navajo language, Diné bizaad, was used to secure military communication lines to advance marines forward on the battlefields of the Pacific Theatre.
At a time when the reliability of Native American soldiers was called into question, an original group of 29 Navajo Code Talkers transmitted information about tactics, troop movements, orders and other battlefield messages using telephones and radios. Their work was so successful that more than 400 Navajos were called upon to serve as Code Talkers by the end of WWII.
"We honor our Code Talkers and the language that was spoken to win the war," said Vice President Jonathan Nez. "I look at it as God looking upon us as a blessed Nation. We are a blessed Nation, ladies and gentlemen. Let's always remember that. And it all started 150 years ago when our ancestors came back as a people to our homeland."
Begaye and Nez were joined by some of the remaining Navajo Code Talkers and their family members. Families of the late code talkers were also in attendance, along with delegates of the Navajo Nation Council and many more.
Council Delegate Filfred, a Marine Corps veteran who served the United States in Operation Desert Shield and Operation Desert Storm during the Gulf War, offered his appreciation to the Navajo Code Talkers, and also to the family members seated in the audience. He highlighted the Marine Corps long legacy of defending the United States in many battles.
"We are honored to have the Navajo Code Talkers with us today, and we also take this time to remember those who have passed on and their families who continue to honor them on this special day," Filfred said.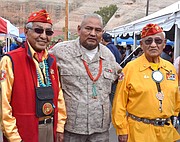 Filfred also introduced several of the Navajo Code Talkers, which included John Kinsel, Sr., Alfred K. Newman, Thomas H. Begay, Peter MacDonald, William T. Brown, Fleming Begaye, Sr., and Joe Vandever, Sr. He also welcomed his Council colleagues in attendance including Council Delegates Raymond Smith, Jr., Otto Tso, and Alton Joe Shepherd. 
Every year, the Office of the President and Vice President (OPVP) provides gifts for surviving Navajo Code Talkers. This year, Begaye presented them with custom oil portraits of themselves, based on photographs by Kenji Kawano, who has been taking pictures of the code talkers for more than 40 years.
The OPVP would like to thank everyone involved with the success of the day's activities including, but not limited to, the United States Marine Corps, the United States Marine Band, the Young Marines, the Devil Pups, Mr. Kawano, the Price family from Fort Defiance, the Navajo Code Talkers Association, and all Navajo Code Talkers and their families.
Information provided by the Navajo Nation Office of the President and Vice President.
SUBMIT FEEDBACK
Click Below to: