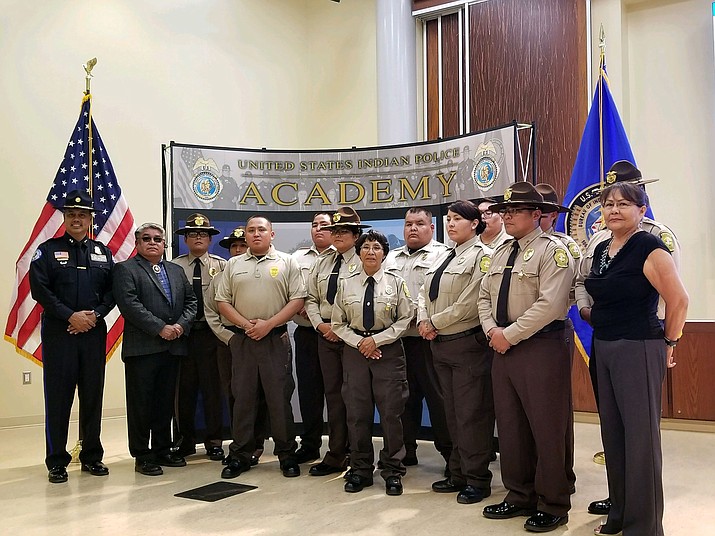 Originally Published: August 14, 2018 9:34 a.m.
WINDOW ROCK, Ariz. — Navajo Nation President Russell Begaye congratulated 12 correctional officers who graduated from the Indian Country Corrections Officer Training Program July 23.
"I am proud of our new correctional officer graduates," Begaye said. "We need their presence to apply justice and reduce the recidivism rate here on the Navajo Nation. Their dedication will help restore harmony back to our communities."
The amount of correctional officer graduates has increased in recent years. In 2017, there were nine graduates. In previous years, the usual number of graduates for each class was about one or two, according to Delores Greyeyes, director of the Navajo Nation Department of Corrections.
"I'm very proud of the 12 that completed the basic correction officer training," Greyeyes said. "The academy has become more stringent over the years. Their ability to remain with the pack is something to be very proud of."
Recent graduates include: Lynnrae Acothley, Sherry Begay, Devin Begody, Bryan Charley, Jeffrey J. Jishie, Robby Jones, Ryan Lansing, ArielLauing, Jestin Manson, Arlin Manygoats, Valentina Nez and Edmond Watchman.
The Navajo Nation is seeking to fill vacancies in the police force, criminal investigations, corrections, Emergency Medical Services and fire department, said Jesse Delmar, director of Navajo Division of Public Safety (NDPS).
"A priority with NDPS is to fill all the vacancies that we have and we're making some progress right now," Delmar said. "With a larger workforce, we will be able to strengthen public safety on the Navajo Nation."
Interested applicants are encouraged to apply. More information is available at (928) 871-7555.