Big Navajo Energy powers homes on Hopi Partitioned Land
Originally Published: August 14, 2018 9:33 a.m.
WHIPPOORWILL, Ariz.—How do you bring power to Navajo families living on Hopi Partitioned Land?
"One home at a time," Dory Peters, president of Big Navajo Energy, told Navajo Nation President Russell Begaye Aug. 9.
Begaye toured the first four homes to receive power on Hopi Partitioned Land under a $253,044 contract he signed with Big Navajo Energy Aug. 7 to deliver solar power units to 44 homes impacted by the Navajo-Hopi land dispute.
Big Navajo Energy, a 100 percent Navajo-owned company partnered with Humless, a manufacturer of solar generator systems, to install 1,500- to 15,000-watt solar power systems to homes that are off the grid on the eastern side of Hopi Partitioned Land.
"Some of our people have been waiting for 30 or 60 years for power," said Peters, who is Navajo. "Some of them have been waiting their whole lives for the power to come on. We'll just focus on one home at a time."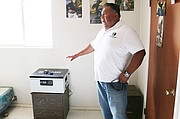 The tour marked the successful installation of solar power units in four homes. Residents gathered with Big Navajo Energy and Humless representatives and celebrated by turning on their lights for the first time.
"It's humbling to meet these residents and see how they live," Begaye said. "They live here because their mothers and grandmothers lived here, because their teachings are here. Now, with the help of Big Navajo Energy, they can live in their homes and have the conveniences they need and deserve."
The homes, fully wired and equipped with light fixtures and bulbs, have lacked the power for appliances like refrigerators. Residents have hauled ice and relied on plastic coolers to store perishable food.
Big Navajo Energy began looking for alternative power solutions about five years ago, Peters said. Big Navajo Energy also worked with the Navajo Hopi Land Commission Office to identify Navajo families living on Hopi Partitioned Lands in need of alternative energy solutions. Because every home presents a different challenge, Big Navajo Energy looks for the best possible fit for each location while providing the latest in renewable technology resources. 
The new solar units upgrade or replace antiquated systems for some residents. For others, the project means access to power for the first time. The solar units, designed to last up to 10 years, deliver enough power for residents to hook up full-sized refrigerators, big-screen televisions or even septic systems.
"When you see their faces when the lights come on, you understand how big of a deal electricity really is," Peters said. "It's giving them a new look at life. They're able to use the amenities that many of us take for granted. Some of these people have waited decades for power, and with the help of Humless, we were able to hook this up in one day."
Lillie Ashley and her siblings are third-generation residents of the area. Aug. 9 marked the first time in family history that Ashley's home was fully powered, and she's looking forward to buying her first refrigerator and exploring a solar-powered septic system.
"I am excited for what the solar power will bring to my life," she said. "We don't have the income to pay for electricity lines to come out here, but this is our home. I thank the Navajo Nation for its assistance."
Information provided by the Office of the President and Vice President
SUBMIT FEEDBACK
Click Below to:
More like this story