Studio 13 Seven bringing liberation to Hopi youth through art
Originally Published: August 7, 2018 10:22 a.m.
PHOENIX, Ariz. — Chris Hawk and his wife, Desiree, have decided to put their backgrounds in the visual and performing arts to work in order to help youth on the Hopi Reservation.
The dynamic couple have opened Studio 13 Seven to awaken and liberate youth through the visual and performing arts. The visual arts includes photo restoration, prints, designs and logo creations. The performing arts is mainly dance but may include videos as time goes on.
"The dance is geared to help inspire and motivate youth and the community in a modern concept," Chris Hawk said.
Although they plan to bring traditional culture into the dance program, for now it is mostly focused on hip hop.
Studio 13 Seven was created in May when it started working with First Mesa Youth Center. The Hawks did not charge any fee as their private business is just getting off the ground. Twenty-six students from 6-18 years old were involved in the summer program.
"We had to persuade the First Mesa Youth Center on our idea," Chris said. "This allows kids through dance to see health benefits and release stress within themselves. You can bring out expression and confidence through dance."
Chris said in the beginning the kids were shy but by the third session they started coming together.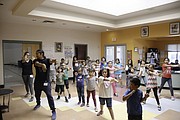 "Our goal was to take them from shy to confident," he said. "The kids loved it. We started out with modern hip hop, but we will end up bringing in traditional dance. We are still on this journey."
Studio 13 Seven just signed a building contract with Iskasokpu Gallery at Second Mesa, located one mile southeast of the Hopi Cultural Center. Studio 13 Seven will operate from 6-9 p.m. weekdays and have some special events on some weekends.
Chris said Studio 13 Seven has been approached by several community members asking them to bring their program into their village.
Chris said four years ago, he and his wife started on a health journey because several of their family members have diabetes and high blood pressure.
"We need to figure something out that's catchy to keep people moving, to give attention to health issues," he said.
Both Chris and Desiree studied graphic arts at Paradise Valley Community College (PVCC). Desiree also took dance classes at PVCC. Chris graduated from Hopi High School in 2002, but during his high school years he was into hip hop dances.
"Guys would come out from Winslow and we would have breakdance contests," he said.
The Hawks say they can bring their graphic design services to bring professionalism to local businesses.
Desiree said since she works in the school system, she has seen a lack of confidence in the students so she wanted to do something for them and feels dance is the answer. She has worked as a special education aide for Keams Canyon Elementary School for the past two years and will be filling that role for Hopi Day School this year.
Hawk said they came up with the name Studio 13 Seven because Aug 13 is Desiree's birthday and Dec. 7 is his birthday.
"But we're into symbolism, 13 to us means transition. Seven means completeness and together 13 and seven is balance," Desiree said.
Chris Hawk said their motto is 'do more with less.'
"Some programs have big old budgets. If you do more with less you do not need more budget. It just needs to come from the heart. Anything is possible when it's done through the heart," he said.
More information about Studio 13 Seven is available by calling (928) 326-5501 or online at www.studio13seven.com.
SUBMIT FEEDBACK
Click Below to: