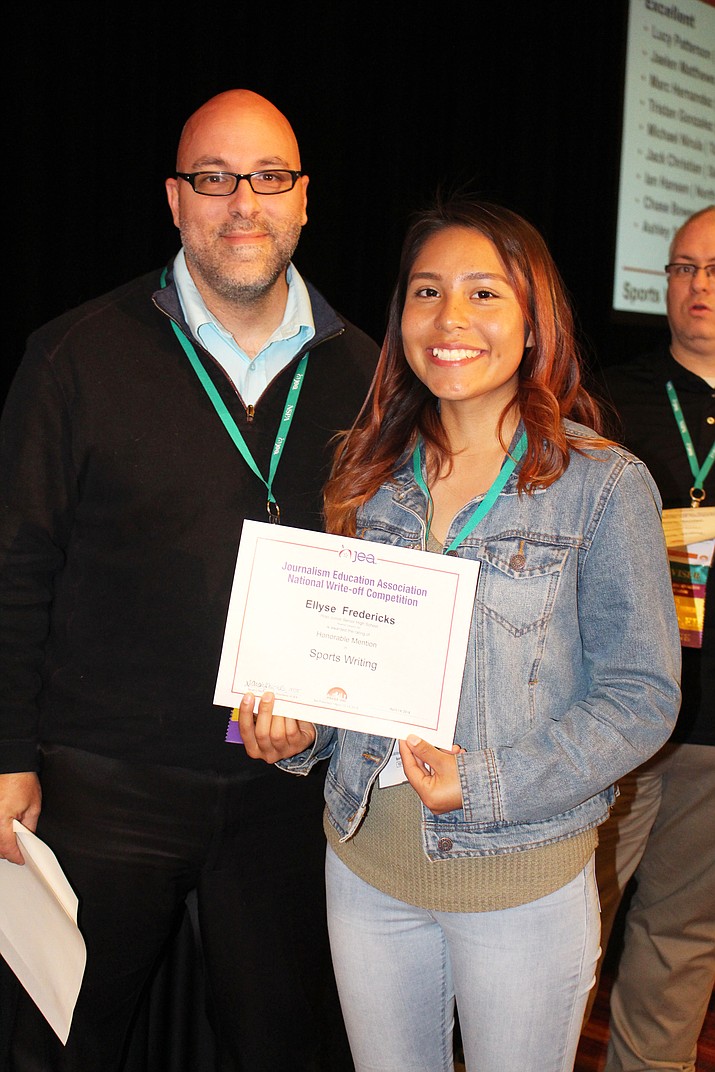 Originally Published: April 24, 2018 10 a.m.
SAN FRANCISCO — Ellyse Fredericks, a print journalism student at Hopi High School, became a national award winner when she won honorable mention, or placed third, in the sports writing division at the Journalism Education Association Conference in San Francisco April 13-14.
Approximately 4,525 students attended the conference with about 1,750 entering the contests and 689 coming out as winners in various categories for print journalism, broadcast and yearbook.
Fredericks, a sophomore, said winning the award was an amazing achievement.
"Before I found out that I won something, I was doubting myself. I was concerned about words and other writing mistakes. At the same time, I was happy and proud with myself because I tried my best," she said.
Fredericks, who is Hopi and Navajo, did not select her category because she took over for another student who was going to go on the trip, but had to drop out.
"I wasn't comfortable with my contest because it was about sports, but it turned out to be great," she said. "The presentation was interesting and inspiring. I was nervous at first, but when I began to write I felt so confident."
There were 70 journalism students in her category. They entered a large room, were given a presentation and had an hour and ten minutes to write about it.
Fredericks said the highlight of the conference was receiving her award during the final ceremony because it was a cheerful moment. She said the overall conference was great because a lot of students attended and the breakout sessions had interesting topics.
"I learned about how to use Photoshop, how to be a good editor and what to expect as a new journalist," she said. "The conference was important to me because it was a great opportunity to experience something new and I was able to do what I love to do: write."
Fredericks said the conference would have been improved if they had snacks and beverages for the students. Her advice to students who go to the conference next year is to take the opportunity to learn and meet new people.
"Always try your best when you're writing a story for a conference," she said. "Work hard so you can have great opportunities to travel and learn. Effort determines how much responsibility and determination you have."
Fredericks said being the only reservation school at the conference made it seem lonely for her.
"We were always surrounded by non-native students," she said.
Fredericks said the trip was amazing and motivates her to do more with journalism.
"I encourage others to take advantage of opportunities like this," she said.
Fredericks interviewed one of the presenters, Julien McClain, a journalism instructor from Ohio. McClain told her that the key to being a good editor is communication. Fredericks will be writing an article about the trip in the Hopi High Bruin Times and plans to post it on her social media.
The ten tips for high school journalism editors were:
•Editors need to communicate with their staff constantly, especially about deadlines;
•Model responsibility. The reporters won't do their work if the editor isn't doing his or her work;
• Practice problem solving;
• Showcase flexibility;
• Delegate what should be delegated;
• Develop patience;
• Keep a positive attitude, especially when young reporters make mistakes;
• Be earnest, not sarcastic;
• Treat others with consistency and
• Give feedback that works.
One of the sessions that the Hopi High journalism students attended was about how to incorporate new journalism staff members into the workload of the high school newspaper. These pointers include being friendly, making yourself available to answer questions, make a good first impression, encourage questions, be enthusiastic when answering questions and have the student reporters do the work rather than doing it for them, but walk it through the steps they need to learn.
The tips for new staff member is come to learn a lot at one time, bring an open mind and don't be afraid to ask questions. New staff members should specialize first and then branch out. Also, write about what you like.
They were told that advisors should set high standards and show the journalism students great examples. One key is telling the truth and letting the students know that they may not have the skills to start, but they will get there.
Sean Bolus, an advanced radio student at Hopi High, said the conference was great because he learned a lot from the sessions, especially how to use Adobe Photoshop.
Bolus, a senior who plans to go into the medical field, said he was proud that Fredericks won an award.
"I knew she was going to win something," he said.
Bolus said he felt he wasn't prepared.
"I've never done anything like this," he said.
Bolus was at a disadvantage because there were no categories in radio, the medium that he has experience in, so he had to select from print or video. He chose the feature writing division. He said the highlight of the conference was visiting Chinatown and the Bay area. He even visited a place where they made the fortune cookies in Chinatown.
Bolus said the conference was important to him because he had a chance to see all the other students who are in journalism. His advice to students who go to the conference next year is to have fun, but find donors who are willing to help with funding for the trip.
He said this conference is good for journalism students because they will learn new techniques.
Bolus interviewed one of the presenters, Jeanie Adams-Smith, a video journalism instructor at Western Kentucky University. Bolus is writing a feature piece about the conference and Adams-Smith that will air on KUYI, the Hopi radio station which is found at 88.1 FM or streaming online at KUYI.net.