Author and illustrator Dale Deforest presents new comic book "Hero Twins"
Originally Published: April 24, 2018 10:12 a.m.
Author and illustrator Dale Deforest presented his comic book, "Hero Twins," at the Museum of Northern Arizona April 21, saying it was his love of comic books and superheroes that inspired him to create the story.
The Hero Twins have long held an important place in the stories of the Navajo people — where they are protectors of their people, but Deforest said he did not set out to retell the Navajo creation story.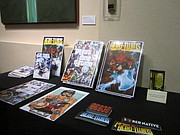 "I was going to create my own story that was related to the creation story," he said. "And it was right there in the title, the 'Hero Twins.' It all just really fell into place right there."
While growing up in Farmington and Shiprock, Deforest said he was not exposed to all the traditional teachings of the Navajo people. But, as he gets older, he feels that he can embrace that a little more. Reaching back to the Hero Twins story also had elements he thought he could use to make his story colorful with a superhero feel.
"The "Hero Twins" was an automatic thing for me," Deforest said. "I wanted to do something that was culturally relevant, but at the same time I wanted to do something on my own, something that belonged strictly to me. The Avengers part 2 had just come out, and the superheroes were just exploding, and I thought the only way I can really truly make my mark on this industry right now is a superhero comics. I've always been a fan of superhero comics."
Deforest said he has not experienced a lot of pushback on his story, partly because it is geared toward a pop culture audience that is already inclined to like comic books — though that does not mean he does not get a lot of advice and suggestions. His older relatives do not always understand what he is doing, but he thinks giving exposure to a new audience who may not know their own histories is a good thing.
"It's my story with elements of other stories. Every writer, every creator does that. But the inspiration behind that — maybe it will inspire someone to go do their own research about Hero Twins, because we're not the only tribe that has the Hero Twins," Deforest said. "There is a Pueblo story, there's a Lakota story, there's a whole bunch. If my book would interest you in learning more about what your own teachings are, by all means, go do that."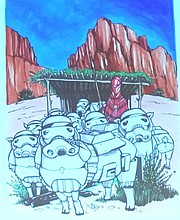 When Deforest was 13 years old, he used to deliberately miss the bus so he could walk home, where he would hang out at the one comic book shop in Farmington until it was time to run to his dad's work place to get a ride home. That is the audience he imagines reading his comics.
"[My target audience is] the little brown kid in Farmington running around in a comic book shop with no money to spend, just coming for all these comics," Deforest said. "That's where that all came from and that's who my target audience is. If someone can relate, then all the better."
The comic book is published by Lee Francis, www.nativerealities.com, and Deforest said the "Hero Twins" is part of a five or six book series. He has hopes of transferring those into a bound graphic novel, which could be distributed among school libraries to have it available for those who cannot afford to buy it.
"We're still working the wrinkles out with that," Deforest said, adding that Francis has been fantastic. "He has a lot of faith in his people," Deforest said. "All of this wouldn't be possible without him."
Deforest created another comic book called "Rez-Luv," which was a slice of life following characters through their outlandish experiences around the places he is familiar with.
"That came about from stories that some friends told me and stories of my own, through college and other happenings," Deforest said. "I gave up on that because it wasn't going anywhere. I would try and sell that comic book at comic cons and people would ask me, 'What is this? And I had hard time telling them because I wanted to tell them, 'it's Love and Rockets on the reservation' and they would ask, 'what is that?' It was a bit difficult to get traction on that."
Deforest is a graphic designer at Route 66 Casino in Albuquerque, New Mexico.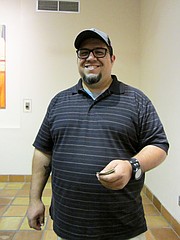 "[The graphic design] is what I use to pay the mortgage," Deforest said.
But he also said he has always been an artist and illustrator and for as long as he can remember, he has always doodled. Deforest said that members of his family would say he has also always been a storyteller.
"I've only really started doing it professionally in the last several years. Comic books always seem to be a good venue," Deforest said. "Whenever I've had a conversation with someone, I was always setting the scene. I was always building up characters. I was always throwing down a plot. And there was always something that brought it all together. The illustration over my lifetime is a tool that's been developing so that I could become this storyteller later in life. At least, that's how I like to spin it."
Ever since Native Realities started publishing the comic book, Deforest said he is finally seeing some traction in his work taking off.
"All this arty stuff I do, it supports itself. Whatever money I make doing art, doing comics, the money just goes right back into the expense," he said. "But the real payoff is the adoration, the love I have for the craft. It wonderful and it's only been, just good."
Deforest does not know what the future will bring, though he would like to work from home with his own business, just doing artwork, doing comics, doing fun stuff for a living.
"I'm a realist," Deforest said. "I don't really see anything, but I do have hope. I do hope that this can continue and this craft can gain more traction and that more people will come out of the woodwork, wherever they're at, whatever community they're in, will come forward and want to be a part of it, want to create their own thing so that we can build this community up and have our own pop culture renaissance."
That pop culture renaissance might start at Indigenous Comic Cons.
Deforest mentioned Elizabeth LaPensée, who has gained notoriety for designing a video game with a hawk throwing lightning bolts at construction equipment geared toward an oil pipeline.
"She said, during an interview, that Indigenous Comic Con is 'like a group of people coming together who do not have to explain anything, we don't have to explain our jokes, our craft. We can just come together and have a great time,'" Deforest said.
And that was Deforest's experience in 2017 at Indigenous Comic Con in Albuquerque, New Mexico.
"It was just all about the art, it was about celebrating those Native American ambitions to pop culture," Deforest said. "And we all had a great time doing it."
More information about Dale Deforest is available at daledeforest.com.
SUBMIT FEEDBACK
Click Below to: