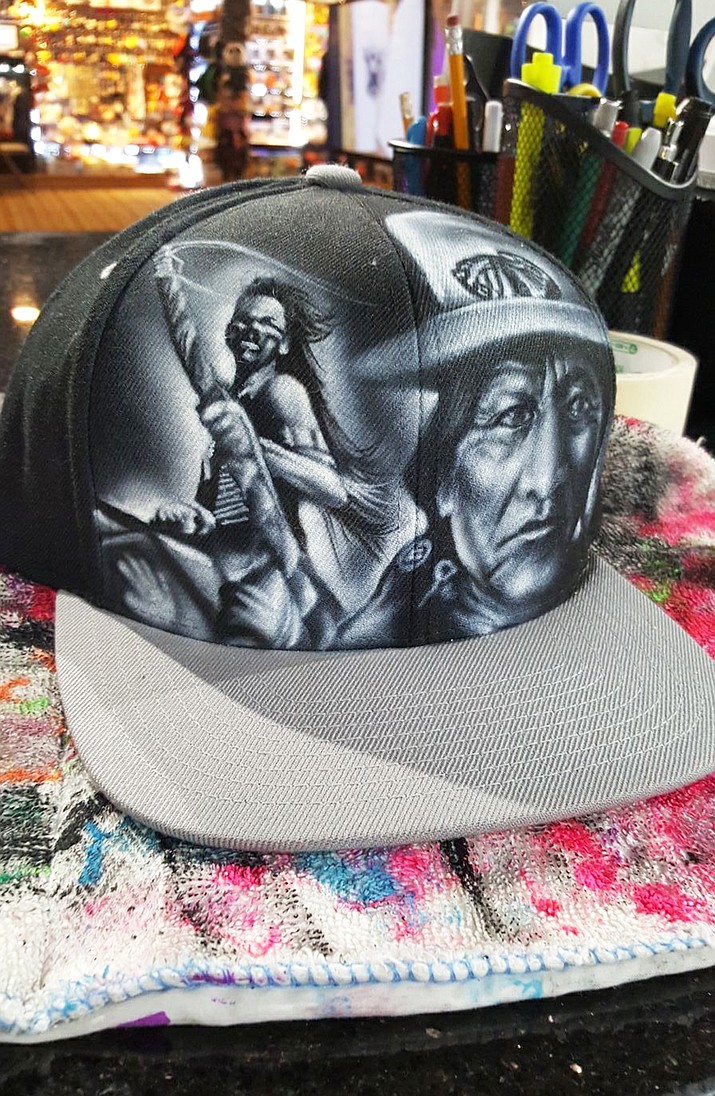 Originally Published: April 24, 2018 10:10 a.m.
PAGE, Ariz. — Nate Tsosie, an airbrush artist from Page, Arizona has been chosen as lead artist at Universal Studios in Hollywood, California. The milestone in his career comes after several highlights leading up to this major announcement.
"In May, I'm moving out to L.A. and opening a brand new shop in Universal Studios with a company called Airbrush Studios. It will be the busiest airbrush shop in the country. It's out of the Universal Studios in Florida and the team [from Las Vegas] is assembling a new team with more west coast artists because styles from east and west coasts are very different," Tsosie said. "I'm kind of intimidated again and there are some really good artists coming out and I'm the lead artist. I have a lot to learn and a lot to prove. It's a pretty huge accomplishment."
Learning has always been a strong point with Tsosie's art ventures. In 2008, Tsosie taught himself to use the airbrushing equipment and by the end of the year, he felt he was proficient enough to start his own company, 'Sevens.' 'Sevens' represented the number seven that was sprinkled throughout his family's birthdates. Family, to Tsosie, is the key foundation to his overall success.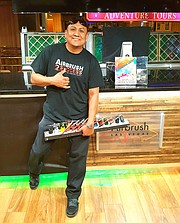 To know Tsosie is to have been one of many to stand in line for custom made shirts or hats that he is known for throughout the Page and Lee Chee area.
"Small events are always fun. But sending pictures on Facebook opened a lot of doors and people could see what I was doing," Tsosie said.
Not many people, including Tsosie himself, knew the extent of his skills because he'd chosen other career options. He also made wall art with airbrushed metal, a learning experience for him that turned into a labor of love. But with growing requests for custom-made designs, Tsosie steps toward his dream has brought him a life and a legacy his family can be proud of.
It was the end of 2014 when he decided to try airbrushing as a full time career — he told everyone he was going try traveling with his business venture. Along with networking and social media came an invitation to airbrush in Las Vegas.
"I never imagined doing this as a living. It's something I originally just wanted to do on the weekend down at a swap meet, events or a fair, just for fun, just for extra money," Tsosie recalled.
The move to Las Vegas challenged his skills and elevated them to the next level.
Now, lines form in Las Vegas at the Circus Circus Casino, where Tsosie airbrushes weekends with a company of other talented airbrush artists. People from all over the world, including celebrities, happily wear his custom-made clothing. The company he works with also makes video tutorials on airbrushing for the airbrushlasvegas.com website, which they will continue to do.
Becoming a professional in the airbrush art world places Tsosie in venues such as the Mine Craft Video Game Event, which a crowd of 18,000 people attended, setting a record in the Guinness Book of World Records for the largest crowd at a video gaming event.
Tsosie will also be a featured artist in Airbrush Action Magazine's first international publication in May, in another highlight for Tsosie, he will be featured in a video documentary called 'Airbrush 2 Success' that profiles top artists in the field.
"It's kind of intimidating to be featured in something like that with the pros. There are really good artists out there. Just to be featured and to be known in that way is a pretty amazing accomplishment on my part," Tsosie said.
That first step into Tsosie's new adventure came with thoughts about seizing the chance rarely offered to many.
"I think I was going with the attitude that I realize I was probably not going to airbrush forever," Tsosie said. "And while the opportunity was available now, I was just going to jump at it and make the most of it while I can. I think I also underestimate myself, I think I do a lot more than I give myself credit for."
Seizing the opportunity has paid off for Tsosie.
But Tsosie admits his family, who unselfishly supported his dream, has also been with him throughout the good and bad times.
"It's been hard on my family, the kids, being away from home often," Tsosie said.
He adds that his new career has a public image and what happens behind the scenes is a major part of his success.
"Everything that you see me doing is just frosting on the cake," Tsosie said. "You don't see my family taking the kids on the weekend, or kicking me 20-30 bucks for gas [or] having to borrow a car. So many things my family and friends do that we don't put out there and they don't get the credit. But it's because they believe in me, and my talent… so I can be successful. It's about having a good foundation at home… that is really huge. Thank you to everybody for supporting me."
Tsosie also reaches out to youth who could use their talent to be successful.
"I remember growing up with friends that were artists, or when I talk at the high school, I see so much talent in Page and on the rez; it's amazing," Tsosie said. "It's my hope to see more kids pursue something like this. Again, you have to dedicate yourself and be willing to take a risk, it's a gamble. I would like to see more Native youth step up and really use something that comes natural to them… to use what God has given them. It's fun and you can do it as business."
Nate Tsosie has not left Arizona for good, which is good news to those who will still line up for his work.
"Its home and my family is up there and… I will be coming back," he said.