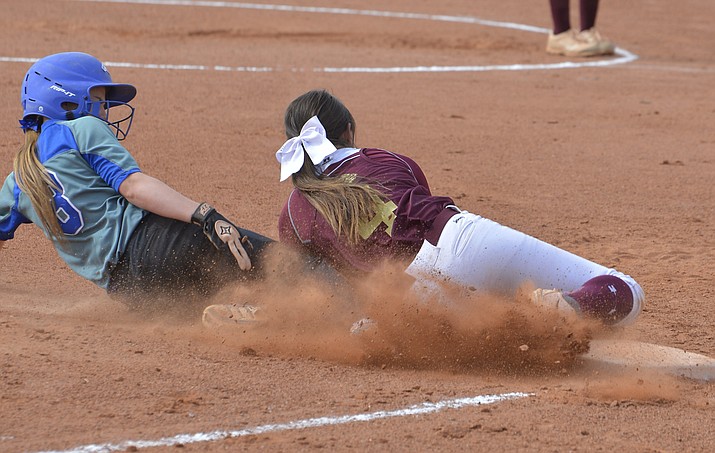 Originally Published: April 17, 2018 10:37 a.m.
WINSLOW, Ariz. — The Winslow Lady Bulldogs defeated the Snowflake Lady Lobos 11-1 in Winslow April 10. They defeated the Page Lady Sand Devils 15-2 in Page April 12.

There are five games left in the regular season.
Winslow's 11-1 victory over Snowflake was shortened to five innings because of the 10-run lead mercy rule.
The Lady Bulldogs scored five runs in the first inning and three in the bottom of the second after Snowflake scored its only run in the top of that inning. Winslow scored one run in the fourth inning and two in the bottom of the fifth to end it.
Jordan Johnson worked the full five innings allowing one run, which was unearned, on just three hits. The Lady Bulldog had eight hits led by Morgan Thomas and Chloe Wilcox, both of whom were two for three with Thomas having a home run and Wilcox a double.
In their 15-2 win over Page, the Lady Bulldogs scored three runs in each of the first two innings and one in the third before the Lady Sand Devils scored twice in the bottom of the third.
Winslow completed the scoring with three runs in the fourth inning and five in the fifth. The game was ended by the 10-run mercy rule.
Justine Butterfield got the win, allowing two runs on four hits. Harleigh Scott led the Lady Bulldogs at the plate with a three-for-four day, including a double and a triple. Brooke Williams was two for three with a double.
The Lady Bulldogs had a 12-6 record after a 12-3 win over the Holbrook Lady Roadrunners at Winslow April 3 and an 11-4 loss to the Show Low Lady Cougars at Show Low April 6.
Returning home April 17, the Lady Bulldogs will host the Payson Lady Longhorns before going back on the road to meet the Holbrook Lady Roadrunners April 20 and the Flagstaff Lady Eagles April 21. The April portion of the season will end at Winslow against the Show Low Lady Cougars April 23.