Tuba City senior receives full ride scholarship to Dartmouth
Originally Published: April 17, 2018 10:24 a.m.
TUBA CITY, Ariz. — Kayleigh Paddock, a senior at Tuba City High School (TCHS), received a full ride scholarship to Dartmouth College, located in Hanover, New Hampshire; she is also a finalist for the Wells Fargo Academic Leadership Fellowship Scholarship.
Paddock, a member of the Navajo Nation, is the daughter of Alverna and Augustine Paddock.
Each year TCHS produces a number of high school seniors who receive full academic and sport scholarships to a variety of universities including Ivy League colleges, which are seen as the most difficult to enter.
Originally from the western Navajo Coalmine community, Paddock has lived in Tuba City for all her life and gives much of the credit for her academic success to her Tuba City High teachers for preparing her for the competitive academic career ahead of her.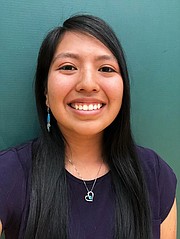 Paddock received the news of her acceptance to Dartmouth University two weeks ago. She will be notified of her other scholarship status in May.
Paddock said she has known since her freshman year at TCHS that she wanted to attend an Ivy League school.
"Rather than be intimidated by the university's reputation of tough competition and difficulty of acceptance, I used that as motivation to prove that no single statistic will hold me back from pursuing my goals," Paddock said. "No one but yourself can hold you back."
Dartmouth University, founded in 1769 as an Ivy League University, has consistently ranked as one of the most competitive college institutions. Dartmouth's outstanding undergrad liberals arts programs and its graduate program, with noted research departments, boasts the arts and sciences, medicine, engineering and business as their strong offerings.
Current statistics lists Dartmouth as having a 38.6 percent rate of graduating students of color each year, more than most other universities.
Dartmouth was originally founded by the Reverend Eleazar Wheelock "for the instruction of the youth of the Indian tribes in this land. Also English youth and any other members."
Dartmouth has a large Native population of students with organizations on campus for tutoring, fellowship and academic support for its diverse tribal population.
"I wanted to attend a college that is completely across the country because I wanted to break out of my comfort zone," Paddock said. "Being surrounded by my family and my friends is amazing but this is an opportunity of a lifetime and I know it will not just benefit me personally, but eventually, it will benefit my community."
Paddock said she wanted to acknowledge how much her community has given to her and inspired her.
"Tuba City High has prepared me in so many ways for this new upcoming experience," Paddock said. "I have had phenomenal teachers at TCHS. Not just encouraging me, but I see them supporting and pushing each student they are working with, alongside me. I want to acknowledge my counselor, Ms. Cheryl Onsae, who helped guide me through all these varied college applications and the maze of financial aid information."
Paddock also acknowledged her volleyball coach, Harlan Barlow, who was instrumental in her final decision to apply to Dartmouth.

"Coach Barlow has always stressed to us, the seven "Cs" of successful academics: communication, compassion, consistency, confidence, compatibility, coachability and competitiveness," Paddock said.
She said two of her most inspirational teachers at TCHS are Effie Hyden and Dr. Josefina DeJesus, both of whom cultivated her interest in human biology.
"They were so patient and supportive of me," Paddock said. "I was always asking them endless questions. Also, my junior year English teacher, Mr. James Rounds, moved me into being a much more confident, emotional writer. He was always guiding me to do my absolute best writing work."
Paddock also wanted to acknowledge her family.
"I'd also like to say thank you to my grandparents," she said. "They always told me, you can go to college anywhere you want to, anywhere in the world, but don't forget where you are from, who you are, and that eventually, how much good you can do for your Navajo Nation and your other tribal people."
Paddock said once she is in college she would like to focus on a chemistry degree modified with neurology and then follow up with a pre-med program. She said she would like to come home with a degree in pediatrics.
Asked what kind of advice she could leave her fellow students at Tuba City High with, Paddock said do not be afraid to try for what you want.
"My own advice? Apply, apply, apply," Paddock said. "I almost didn't apply to Dartmouth because I knew how difficult it was to get into an Ivy League school. I was really scared of rejection. But, it's really true, you won't know what will happen unless you try. Don't be afraid of your own capabilities. I know now that if I hadn't gotten the courage to apply to Dartmouth, I would have been full of regrets. You know, 'what would have happened if I did apply? I wonder what I could have been studying? Maybe I could have gotten in.' So I say, don't let the fear of rejection hold you back. If you want it bad enough, then go after it."
Paddock will graduate in May 2018 from Tuba City High School.

SUBMIT FEEDBACK
Click Below to:
More like this story