Winslow baseball and softball put up wins with few losses at start of season
Originally Published: April 3, 2018 11:31 a.m.
WINSLOW, Ariz. —The Winslow High School baseball season has started well and won nine of their first dozen games. They were 7-2 in the first nine games before losing to the Show Low Cougars 5-4 at Show Low March 19. The Bulldogs won their next three games defeating the Snowflake Lobos 17-12 at Snowflake March 22.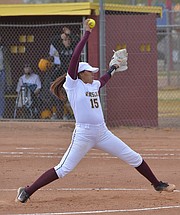 Returning home, the Bulldogs defeated the Monument Valley Mustangs 10 March 23 and the Blue Ridge Yellowjackets 5-0 March 26. They played the Payson Longhorns at Payson 30 to complete the March portion of their schedule.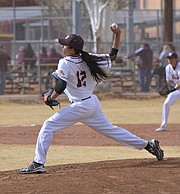 The Bulldogs will play the Holbrook Roadrunners April 3, after the Navajo-Hopi Observer goes to print. The Bulldogs will then journey to Goodyear to participate in the Wolves Classic Tournament in Goodyear April 5 and 6 where they will meet Ridgefield, Washington, Payson and Estrella Foothills.
The Winslow High School Lady Bulldogs are 11-5 going into the April. The team started strong and did not lose until the first game of the Payson Invitational Tournament where they fell to the Benson Lady Bobcats 7-6 in an eight-inning game March 15 after four straight wins.
In the rest of the tournament they defeated the Nogales Lady Apaches 12-7, the Santa Cruz Valley Lady Dust Devils 19-1, the Camp Verde Cowgirls 14-7, the Pusch Ridge Christian Academy Lady Lions 9-8 and the Mingus Lady Marauders 12-2, before losing to Benson again 14-2.
After the tournament they went to Cottonwood and lost to Mingus 9-8 on March 20, then went to Snowflake and lost to the Lady Lobos by that same 9-8 score. A 12-6 win over the Blue Ridge Lady Yellowjackets ended the March portion of the schedule.
The Lady Bulldogs will play the Coconino Lady Panthers and the Holbrook Lady Roadrunners April 3 and 4.
SUBMIT FEEDBACK
Click Below to: