Hopi High students join RISE movement to promote school safety
Originally Published: April 3, 2018 11:16 a.m.
POLACCA, Ariz. — The Hopi Jr/Sr High School student body held a walk March 22 to show support and a positive attitude for the students who went through the shooting in Florida.
Students at more than 2,800 schools throughout the U.S. held marches or walkouts on the same day to show support for the Florida students and voice their concerns about school safety.
The walk at Hopi, which was supported by the administration, is part of the RISE movement.
Preston Clocksin, Hopi High's new climate coach, created RISE to enhance a "win-win" attitude among students and staff at Hopi High and to show a sense of purpose. Clocksin said the idea was to promote school safety by having all involved feel a connection to each other.
"RISE addresses the nationwide problem of school shootings, suicides, bullying, racism, sexism and other concerns that can be addressed through policies at schools and laws on the tribal, state and national level," Clocksin said. "RISE also deals with the importance to change attitudes in order to have safer environments."
Clocksin said RISE was inspired by John Donne's poem "For Whom the Bell Tolls" — he said once it tolls for anybody, it tolls for thee.
Clocksin sees this as the first of many activities to address issues as motivator Susie Vanderlip will come to Hopi Jr/Sr High School April 27 to discuss bullying, sexism, racism, family dysfunctions and gangs.
Clocksin points to holocaust survivor Victor Frankl as a model to follow. Frankl said in his stories that the holocaust made him stronger.
"His philosophy was that if you have a purpose that you can survive anything," he said.
Clocksin said he took on the RISE philosophy about rising up above fears, bullying and despair. He said this concept became important to him while meeting with indigenous people at Standing Rock who were there to protect the environment.
"Schools all over the country are rising up today in support of our brothers and sisters who were slaughtered and holding accountable those who supplied the weapons and hatred. They are finding purpose in standing up, rising up for our relations. The most recent losses are the 17 adolescents in Florida. We come together also to honor them as we walk for 17 minutes in silence. We wear our pins to remind us that we rise to honor relations. We find purpose with our courage to step forward," he said.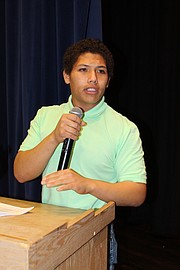 Jeremy Garcia, president of the Hopi High Student Council, spoke to his classmates before the 17 minute walk. He said safety at school is an issue as they hope to save lives.
"We want to ensure a safe environment. We can all learn from this peaceful march," he said.
Garcia said Hopi High School is a safe place to learn. He said it was hard for the schools who lost students to violence.
Hopi High advanced guitar students Stacy Charley and Amber Labahe sang John Denver's song "It's About Time," a song about people coming together.
SUBMIT FEEDBACK
Click Below to: